21-23 September 2010 (Kuala Lumpur, Malaysia)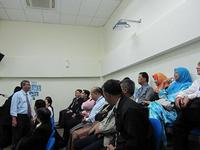 For three days starting from 21 October 2010, Malaysia's National Security Council (NSC) and Asian Disaster Reduction Center (ADRC) conducted a workshop in Kuala Lumpur as part of a community-based disaster risk management project. Nearly 50 people participated from various organizations including NSC, other disaster-related institutions, and municipalities
The workshop started with the opening remarks by NSC Secretary Hon. Datuk Mohamed Thajudeen Abdul and Mr. Ogu Salim bin Omar, Under Secretary of Disaster Management Division, NSC, in which were stated great expectation toward strengthening disaster resilience of communities in the country through this training. Then experts from ADRC, NSC, other relevant agencies and a local NGO gave lectures such as Total Disaster Risk Management, policy and mechanism on Malaysia's disaster management, various disaster risk reduction activities. Followed by the lectures, participants visited Malaysian Meteorological Department and Department of Irrigation and Drainage to learn weather and river monitoring systems and practices.
The participants showed great interests in the lectures with active discussion during the workshop. From now on, municipal and community-level training is scheduled in the country where the participants of this workshop will then give lectures as trainers.
Since 2009 NSC and ADRC have been implementing a project for capacity building of local government officials in Malaysia, which could have synergy effects on this CBDRM activity.
(2010/10/15 17:40)