Thailand, 30-31 August, 2010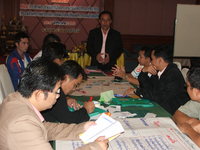 Department of Disaster Prevention and Mitigation (DDPM) of Thailand's Ministry of Interior and Asian Disaster Reduction Center (ADRC) jointly organized a workshop for local government officials in its northeastern province Khon Kaen at Khon Kaen Hotel on 30-31 August.
This workshop was part of capacity building program of local government officials for ASEAN countries, under which DDPM and ADRC had prepared since 2009 for further promoting capacity development. And it was a final activity of this program in Thailand.
A total of 41 local officials attended the workshop to take lectures on disaster risk management and countermeasures and to visit disaster-prone areas for making hazard maps as a case study. The participants reassured the importance of promoting disaster risk management activities in their areas through the workshop.
Led by experienced trainers, who are government officials themselves, the workshop facilitated active participation of many participants from surrouding areas. Further, the trainers improved their teaching materials and methods through three previous workshops within this program. Therefore, it is expected that DDPM will continue activities of this kind in other areas of Thailand by making good use of the experiences of this program.
(2010/08/30 10:40)