20 May 2010 (Makati City, Philippines)
Atsushi KORESAWA of ADRC attended the ASEAN Agreement on Disaster Management and Emergency Response (AADMER) Partnership Conference held on 20 May 2010 in Makati City, the Philippines.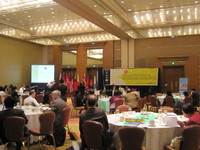 The ASEAN Committee on Disaster management (ACDM) adopted the AADMER Work Programme at its 15th Meeting in March in Singapore. The AADMER Work Programme is expected to contribute to the resiliency of peoples belonging to the ASEAN community of ten nations. It also contributes to the achievement of the global priorities stipulated in the Hyogo Framework for Action (HFA).
At the Conference, the ACDM members explained the ADDMER Work Programme in some details with the intention of gathering support from partners for the implementation of the AADMER Work Programme, particularly Phase 1 (2010-2012) flagship projects. The ADRC was invited as one of those partners.
ADRC has already engaged in the implementation of similar activities both within and outside ASEAN countries and accumulated relevant experiences and expertise. Therefore, the ADRC would be pleased to be involved in some of the ASEAN flagship projects presented in coming years.
( 2010/05/31 13:10)