5-6 May, Singapore
The roundtable on Asian Regionalism was organized by the Asia Pacific Economic Cooperation (APEC) forum, Centre on Asia and Globalization (CAG) at the Lee Kuan Yew School of Public Policy and the Center for Strategic and International Studies (CSIS) on 5-6 may at the LKY School in Singapore. Many experts in the fields of energy security, climate change and natural disaster response attended the roundtable from across Asia.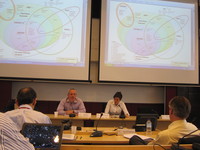 The Asian Disaster Reduction Center had been involved in the preparatory process to some extent, but the organizers invited Mr. Atsushi KORESAWA of the ADRC as one of the discussants in the session "Response to Natural Disasters." He presented why ADRC was established and how ADRC has been conducting its activities as one example of many regional/sub-regional organizations in Asia, especially focusing on its comparative advantages. The head of SAARC Disaster Management Centre in New Delhi and the executive director of the Pacific Disaster Center in Hawaii also participated in the session as discussants.
CSIS will produce a report by reflecting discussions at this forum. It has become certain hat disaster management has been gaining its importance in the context of the non-traditional security areas. However, it has been recognized that there are many disaster management related activities conducted by many different organizations which have some similarities or commonalities and thus some rationalization is required to make them more effective and useful.
ADRC will continue to conduct its activities in good collaboration with other organizations and focus on areas which ADRC has comparative advantages.
Note)
CAG: Centre on Asia and Globalisation, Lee Kuan Yew School of Public Policy, National University of Singapore
CSIS: Center for Strategic and International Studies, Washington
(2010/05/12 13:10)