Thailand and the Philippines
February - March 2010
From late February through early March 2010, the Asian Disaster Reduction Center (ADRC) conducted trainings for government officials in charge of disaster management with Thailand's Department of Disaster Prevention and Mitigation (DDPM), and Philippines' Office of Civil Defense (OCD) and National Disaster Coordination Council (NDCC) in Bangkok and Manila respectively. (Photos: Thailand and the Philippines, from above)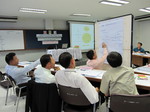 The trainings are part of ASEAN cooperation project Capacity Building of Local Government Officials on Disaster Management. ASEAN's national disaster management organizations and the ADRC conduct training for trainers (TOT) and then the trainers give lectures at workshops for local government officials in each country.

During this TOT in Thailand and the Philippines, the
participants took lectures on various DRR/DRM topics developed by experts from each country such as the institutional framework of DM system in their countries and disaster-specific issues including flood, tropical storm, earthquake and tsunami. The two trainings drew positive response from the attendants, resulting in active discussion among them over the covered topics and coming workshops. They will give lectures as trainers in subsequent workshops for local officials, which are scheduled in the middle of this year.
(2010/03/08 17:40)