13-14 December (Dhaka, Bangladesh)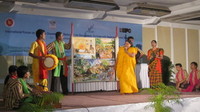 ADRC actively participated in the International Forum on Tornado Disaster Risk Reduction held on 13-14 December 2009 in Dhaka, Bangladesh. This event was organized jointly by the Ministry of Food and Disaster Management and the Ministry of Defense of Bangladesh, Tokyo Polytechnic University, the Bangladesh Disaster Preparedness Center (BDPC), and the International Association of Wind Engineering.
Bangladesh is known as a country prone to various natural hazards, including cyclones, floods, and storm surges. Tornados occur almost every year, often resulting in extensive casualties and damage. Recently, for example, the 1996 tornado in Tangail killed about 700 people. Despite such devastating consequences, adequate tornado preparedness measures are still lacking, with efforts still needed in the areas of early warning systems and evacuation shelters. This forum was therefore held to raise awareness among policymakers, practitioners, and civil society of the risks posed by tornadoes and other severe local storms, as well as to promote the development of strategies for mitigating future disaster risks.
During the forum, ADRC gave two presentations, on "Governance and Policy Making" and "Public Awareness and Education." ADRC presented a wide range of issues concerning the progress made toward the HFA, as well as the remaining challenges, and highlighted the roles that awareness-raising efforts and education should play in Bangladesh. The presentations also summarized the ADRC's relevant activities in Bangladesh in the past. For more details, please visit the website(http://www.iawe.org/WRDRR_Bangladesh/).
(2009/12/14 13:10)