8-11 September 2009 (Bhutan)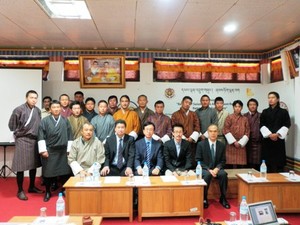 The overall objective of the project in Bhutan is to strengthen institutional and communal capacity to plan and implement disaster risk reduction strategies through integrated disaster preparedness and recovery approach.
This particular workshop aimed at reviewing seismic retrofitting and vulnerability evaluation guidelines and tools for assessment of private and public buildings developed by experts in Bhutan.
Three Japanese experts presented their evaluation results and suggestions based on their careful examination of relevant materials and comparison with similar cases in other countries. It was followed by intensive discussion and exchange of thoughts between Japanese experts and eighteen participants, mostly engineers, from capital Timpu or surrounding areas.

2009/9/16/13:20