October 2006 - March 2009 (Sri Lanka)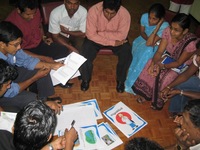 Asian Disaster Reduction Center (ADRC) has participated in the Comprehensive Study on Disaster Management in Sri Lanka (Study Period: Oct. 2006 - Mar. 2009) organized by JICA as members of the Study Team. In March 2009, all the Study activities were completed with submission of the final report of the Study to the government of Sri Lanka. ADRC had been in charge of the Study areas of Administration of Disaster Management and Community based Disaster Management (CBDM) and made recommendations to enhance the capacities of those areas.
As final activity of the Study on CBDM, a seminar on CBDM was conducted in Colombo on 5 December 2008 with around 100 participants in charge of disaster management in District Disaster Management Coordinating Unit, Divisonal Secretariat Office, and NGOs. In the seminar, discussion on enhancing CBDM through review of draft of disaster educational material, and practical training of community hazard mapping and a game for disaster awareness.
Further information on the Study, please visit the following website of Disaster Management Center of Sri Lanka:
http://www.dmc.gov.lk/jica/index.html
(2009/03/10 10:40)