At the Asian Ministerial Conference on Disaster Risk Reduction (AMCDRR), 3-6 July 2018 in Ulaanbaatar, Mongolia, the International Recovery Platform (IRP)/ADRC organized series of events to highlight recent developments on "Build Back Better" in recovery, rehabilitation, and reconstruction.
Side Event: Recovery as an Opportunity to Prevent Risk
Suld Hall 1, Best Western Premier Tuushin Hotel, 5 July 2018, 10:15 - 11:15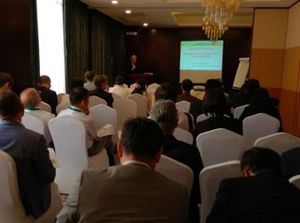 IRP/ADRC organized this side event to showcase recovery initiatives, pre- and post-event, that contribute to preventing risk. It put emphasis on how recovery contributes to resilience through "build back better" efforts. At the opening, Mr. Shinichi TAKAHASHI, Vice Mayor Sendai City, described three recovery initiatives to strengthen resilience following the Great East Japan Earthquake of 2011; and the IRP Secretariat reported the outcomes of the International Recovery Forum 2018. The interactive panel members included Myat Moe THWE, Director, Department of Disaster Management, Government of Myanmar; Arghya SINHAROY, DRM Specialist Asian Development Bank; and Mahesh PRADHAN, Programme Officer UN Environment. Myanmar looked back 10 years after cyclone Nargis reporting how recovery was an opportunity to strengthen community resilience in housing, infrastructure, and livelihoods. ADB explained that post-disaster assistance for recovery can create opportunities to strengthen resilience but success is dependent on: (1) longer-term commitment; (2) robust, flexible approaches for reconstruction; (3) good governance arrangements; (4) adequate and timely availability of financing; and (5) facilitating knowledge and strengthening partnerships. UN Environment reported that effective Disaster Waste Management during recovery process can enhance resilience by (1) integrating disaster contingency planning in national and city-level waste management strategies; (2) improving routines for sorting, collecting, and storing disaster waste; (3) reducing the impact of waste on the environment during recovery; and (4) utilizing engineered landfills. During the discussions, Setsuko SAYA, Cabinet Office Japan and Co-Chair of IRP Steering Committee, who served as moderator, noted the panelists' responses to questions from audience that pre-disaster recovery planning (PDRP) can be viewed as an investment planning tool that both national and local governments can adopt. She concluded the session with the following messages:
Preparing for recovery prevents risks and strengthens resilience
Recovery contributes to resilience by initiating investments, pre-disaster recovery planning, pre-contracts, and pre-agreements before the disaster
To "Build Forward Better", vulnerabilities need to be addressed today
 
Ignite Stage: Pre-Disaster Recovery Planning: Lessons and Challenges
Sukhbaatar Square, 4 July 2018, 15:15 -15:30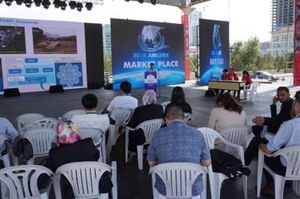 In this presentation, IRP/ADRC argued that effective recovery begins before disaster happens. One of the tools is Pre-Disaster Recovery Planning (PDRP) which addresses common recovery issues associated with time, resources, and capacity. The presentation highlighted five lessons on PDRP: (1) recovery strategies and decisions can be made now; (2) the planning process facilitates stronger stakeholders' relationship; (3) it helps explore modalities for financing recovery; (4) it ensures accountability; and (5) it promotes "Build Back Better" for resilience. However, in practice, PRDP poses the following challenges: (1) it is not conducted frequently since it's time-consuming, expensive, difficult, and controversial; (2) community fails to recognize the value because it's rarely activated; (3) lack of local resource or mandate to encourage participation; (4) it's not integrated in DRR plans as most are stand-alone plans; and (5) it requires regular conduct of drills and revision of manuals. The presentation concluded that,
PDRP raises awareness and appreciation of the operational value of recovery preparedness
It enables effective coordination structure and facilitates rapid (yet informed) action in an otherwise demanding and chaotic environment following a disaster
It requires commitment, including consistent drills and manuals' updating
Market Place: IRP a Network for "Build Back Better"
Sukhbaatar Square, 4-5 July 2018, 09:00-17:00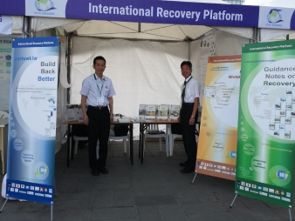 The IRP/ADRC booth at the Marketplace was an opportunity to showcase IRP knowledge products, publications, and good practices in "Build Back Better" in recovery, rehabilitation, and reconstructions. Over 500 people visited the booth, distributing around 300 IRP brochures, about 320 USBs and CDs containing knowledge products on recovery, 20 copies of Guidance Notes on Recovery for Private Sector, and over 150 copies of IRP Herald. Additionally, the booth exhibited posters, banners, newsletters, flyers, and guidance notes on recovery along 12 themes. IRP/ADRC showed video clips on recovery at the wide stage openly visible to the public. More importantly, staffers from the IRP Secretariat manned the booth to further explain the works and activities of IRP.
(2018/07/18 14:40)