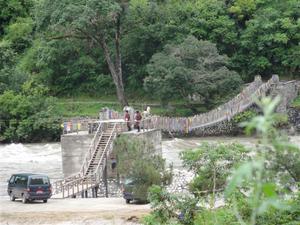 17 Aug 2010 Bhutan
The risk of glacial lake outburst floods (GLOF) has been increasing due to climate change in recent years. Since these types of floods are faced by several Asian Disaster Reduction Center (ADRC) member countries, the development of countermeasures is urgently needed. ADRC selected Bhutan as the site for a pilot project that aims to help all member countries facing similar risks to do the following: develop hazard mapping methods, support capacity building and disaster management through workshops for governments and communities, and creating manuals related to the above-mentioned activities. Mr. Arakida, a Senior Researcher with ADRC, visited Bhutan in August, and had various meetings with the Department of Disaster Management (DDM), the Department of Geology and Mines (DGM), the Department of Energy (DOE), and the Japan International Cooperation Agency (JICA), which had already begun work on another GLOF project. He also visited Punakha province, the prospective project site, where he exchanged views with the provincial governor and school principals, and toured the DOE's early warning center. The current situation is as follows:
- GLOF occurred along the Po River in 1984, and the UNDP is now conducting a project on the Po River.
- Five glacial lakes in the upstream regions of the Mo River were identified as being at risk of GLOF flooding, but their risk level is low and constant monitoring in those areas would be difficult.
- Due to a lack of data, it is difficult to estimate the river water levels that would result from GLOF flooding.
ADRC and DDM ultimately agreed on a two-year cooperative project, as follows:
- Focus on the Mo River, which flooded in 2009.
- Install community-based river level gauges, and develop an early warning system.
- Create a map of with elevation data in the upstream areas of the Mo River.
- Create a hazard map based on past flood records in Punakha
- Conduct disaster education and training among local residents.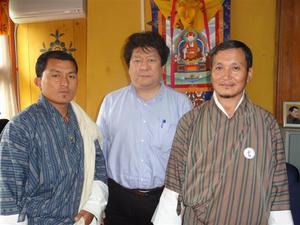 During the mission, Mr. Arakida met Mr. Norbu Tshering, a former train
ee who participated in JICA's comprehensive disaster risk management course from January to February 2010 in Kobe. ADRC is pleased to be able to support those who are utilizing their disaster management training to promote disaster management efforts.