The 2017 Global Platform for Disaster Risk Reduction was held in Cancun, Mexico, during 24th to 26th May 2017. The Global Platform, held bi-annually since 2007,was established as the main forum for those working for DRR from the national governments, the UN system, international organizations, regional organizations, academic institutes,civil society and the private sector to get together and to explore DRR challenges.The 5th meeting, co-hosted by the government of Mexico as well as UNISDR, took place outside Geneva for the first time. Diverse sessions were held throughout the three days. The 2017 GP was attended by largely 180 countries. From Japan, Mr.Habuka, Deputy Director General, Cabinet Office attended the meeting, and MOFA, Ministry of Land, Infrastructure,Transport and tourism,Japan Meteorological Agency sent delegates as well.
In the special session on Build Back Better on 24th May, chaired by Mr.Habuka, Deputy Director General, Cabinet office, focused on the status and challenges of the policy efforts towards BBB by learning from the lessons in the past, and discussed how to build DRR strategies at national and subnational levels. Mr.Habuka presented the government policies for DRR and increasing resilkience by following the DRR plan in order to contribute to achieve the global targets.
On the Day2 afternoon, ADRC, as a regional international organization, made its official statement on the priority issues discussed so far with its member countries, based on the three major outcomes of the ACDR2016 in Phuket including policy measures to survive mega disasters, strengthening of DRR and DRM by capacity development, and science and technology supporting CBDRM. Key issues raised by member countries since the study visits to Kumamoto last year were also reported including consideration in climate change adaptation. ADRC also informed about the ACDR2017scheduled in October, in Baku.
On 25th May, ADRC organized a breakfast meeting to facilitate member countries' networking, which was attended by 18 participants from nine ADRC member countries, thanks particularly to the networks of former ADRC visiting researchers(See photo.). In the meeting, Azerbaijan, hosting the upcoming ACDR 2017 in Baku, expressed their idea to invite the participants to the International Caspian Exercise 2017 for DRR, just before the opening of ACDR2017. The host country requested member countries to send high level delegates to the Conference considering the increasing importance of DRR. ADRC invited member countries at the SC meeting held in Kumamoto, last December to share major DRR challenges and demands for regional collaboration in the future, in order to discuss ADRC future priorities. At the meeting in Cancun, the initial outcome provided by the six member countries, namely, Armenia, Bhutan, Cambodia, Indonesia, Philippines and Sri Lanka, were shared with by the participants. ADRC requested member countries to submit their idea and discuss DRR priorities in the future during GP meeting period and beyond. Participants then shared updates of recent DRR policies during the brief roundtable.
GP in 2019 will take place in Geneva, according to the final announcement by UNISDR.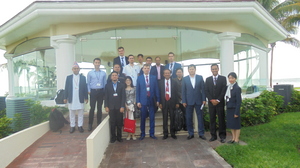 (2017/05/31 12:30)