TOP PAGE
> Information on Disaster Risk Reduction of the Member Countries
Information on Disaster Risk Reduction of the Member Countries
Nepal
General Information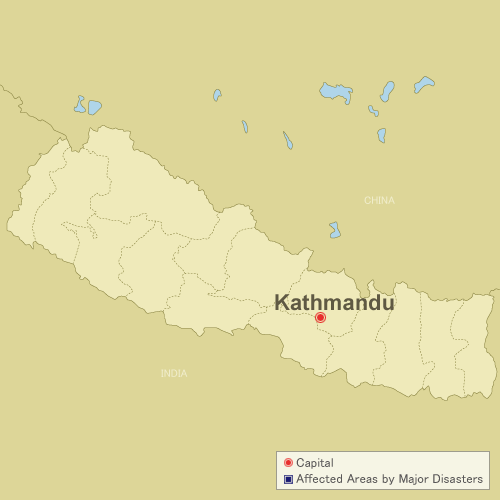 Formal Name: Federal Democratic Republic of Nepal
Nepal is a landlocked country which borders India to the east, west and south, and China to the north. Central and north parts are hilly area with the Himalayas ranges, whereas southern part is covered with the Plain area called 'TARAI'. The total Land area of Nepal is 147,181 square kilometers with 26.6 million people, composed with different ethnicities, races and language. Nepal has all six seasons, the famous rainy season is in June to August and the winter is between December to February. The capital city of Nepal is Kathmandu, where only the capital about 3 million people are living.
Nepal, the birth place of Lord Gautam Buddha, ranges from 8,848 meters high Mount Everest to 60 meters high place in Tarai.
Overview of Disasters
Drought, earthquakes, epidemics, extreme temperatures, floods, landslides, fires (both household and forest), wind damage, and abnormally low temperatures are the major disasters in Nepal. Flood, landslide and fire frequently occur in Nepal. It is also prone to earthquake due to its location near the boundary of the Eurasian and Indian tectonic plates.
Recent Major Disasters
Flood (August 2008)
Due to torrential rain that started at the beginning of 17 August 2008, more than 20 people were killed, more than 50 were missing and 200 people were injured. Approximately 150,000 people were affected and 20,000 household were completely destroyed. Damaged and loss was nearly US$3 billion.
Landslide (August 2014)
Heavy rain caused massive landslides from the hillside in Nepal on 2 August 2014. On 6 August 2014, Nepal called off a search for survivors and declared 156 people dead. The landslide also created a dangerous blockage of the Sunkoshi River, stoking fears of floods downstream in neighboring India\\\\\\\'s Bihar state. Authorities in both countries evacuated thousands of people, fearing that a torrent of water would be unleashed as the earth and rocks were cleared.
Earthquake (April 2015)
Nepal suffered a massive loss of lives and property on Saturday 25 April 2015, when the devastating magnitude 7.6 earthquake struck Nepal. Subsequent aftershocks, including one of magnitude 7.3 near the Chinese border on 12 May. As a result of the earthquake, 8,790 people died and more than 22,300 people were injured. Assessments showed that at least 498,852 private houses and 2,656 government buildings were destroyed. (source: "Post Disaster Recovery Framework" published by Government of Nepla, May 2016)
Disaster Management System
Legal System
Natural Calamity (Relief) Act: The Nepalese Government has formulated the Act in 1982, as it is a primary rule of the Government to manage each and every cycle of disaster in the country. It has already been amended twice in 1989 and 1992. The initial act focused on emergency response, yet the amended current act focuses on a more comprehensive disaster risk management in order to increase capacity building for preparedness and disaster mitigation.
Local Self-Governance Act: The Local Self-Governance Act, 1999 has promoted the concept of local self-governance within the decentralization framework for managing environment-friendly development. The Act has given due emphasis to the inter-relationship between development process, environment and disaster. The Act encourages and empowers local government on overall local development process with ownership. Some District Development Committee (DDCs), municipalities and Village Development Committee (VDCs) have started good initiatives such as the preparation of DRM plan that also addresses climatic hazards, training of professionals and staff and implementation of community-based disaster risk management programs.
Nepal National Building Code (NBC): The Government of Nepal has formulated the Code (NBC) in 1993, targeting safer construction practices across the nation. The Municipal and VDC authorities are identified as key implementers of the code with technical support from the Department of Urban Development and Building Construction.
National Strategy for Disaster Risk Management (NSDRM) : The Strategy formulated in 2009 has provided a roadmap for all the sectors to prepare sector-specific programs on disaster management and formulate necessary policy decisions in facilitating disaster mainstreaming into sectoral development planning process. Based on the identified gaps and issues for each of priorities for action that are in line with HFA priorities, the NSDRM has proposed and recommended strategies to be taken for disaster management in Nepal.
Organization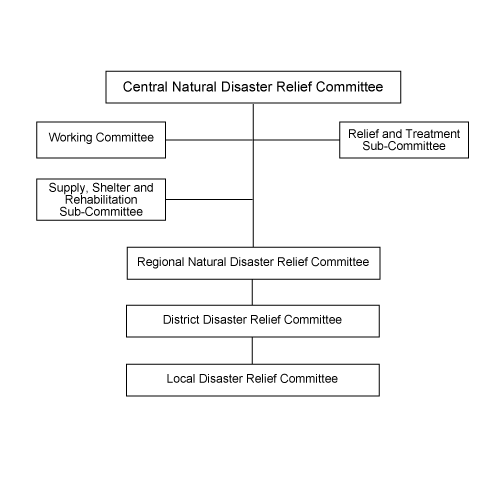 The Central Natural Disaster Relief Committee (CNDRC) is coordinating various disaster-related apparatus. Chaired by Hon. Home Minister, the CNDRC, a 36-member committee, is mandated to recommend the Government of Nepal to declare emergency in the disaster affected areas. CNDRC is mandated to formulate and review national policy regarding relief and rehabilitation works, required programs for preparedness, response and recovery.
Plan
The Twelfth National Development Plan of the country made it compulsory to include environmental impact and natural disaster appraisal study for infrastructure projects. It has more focus on mainstreaming disaster issues with different development plans and programs. Objectives of the provisions on disaster management in this periodic Plan are to make development and construction works sustainable, reliable and effective, and to keep life of the common people secured. n order to achieve these objectives, the plan identifies the need to develop integrated information system in coordination with national and international agencies; to develop reliable database; to prepare institutional inventory; to operate five regional warehouses with sufficient stockpile of relief materials; to develop national fire code; to prepare landslide inventory based on hazard maps and create epicenter map; to provide immediate information to common people of any mode of disasters; to adopt disaster preventive system; and to offer instant counseling and rehabilitation to the victims.
Government of Nepal has formulated District Disaster Preparedness and Response Planning (DPRP), Local Disaster Risk Management Planning (LDRMP), District Disaster Management Planning (DDMP) Guidelines under the guidance of CNDRC aimed at formulating emergency preparedness for response, preparedness to response and preparedness at all levels in district. All of these are providing guideline to district administrators, stakeholders and community people to have better management of all activities of the different cycle of disaster. The harmonization of those guidelines is in process to have coherent policy at district level.
National Disaster Response Framework (NDRF) has been prepared for effective coordination and implementation of disaster preparedness and response activities by developing the National Disaster Response Action Points that clarifies the roles and responsibilities of the government and non-government agencies.
Climate Change Policy (2011), sets out the goal to improve people\'s livelihoods through climate change impact mitigation and adaptation activities. The Government of Nepal launched the National Risk Reduction Consortium (NRRC) in 2009 under the chair of Home Secretary to fulfill the institutional gap between obligation from HFA, mandate from NSDRM and proposed Disaster Management Act. The National Framework on Local Adaptation Plans for Action (LAPA) aims to promote the preparation and implementation of LAPA and integrate adaptation options into local and national plans.
ADRC Counterpart