TOP PAGE
> Information on Disaster Risk Reduction of the Member Countries
Information on Disaster Risk Reduction of the Member Countries
Iran (Islamic Republic of)
General Information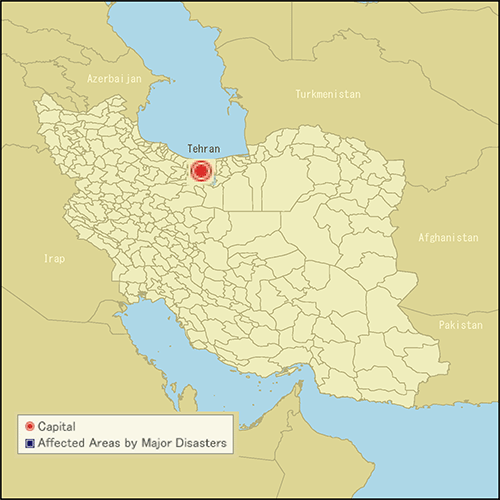 Formal Name: The Islamic Republic of Iran
Iran is a county in southwest Asia, country of mountains and deserts, neighboring Turkmenistan, Azerbaijan and Armenia on the north, Afghanistan and Pakistan on the east, and Turkey and Iraq on the west. Tehran is the capital. It holds one of the largest oil and gas reserves in the world. Official language of Iran is Persian.
Overview of Disasters
Iran is prone to Earthquake, flood, storm, landslide and drought.
Recent Major Disasters
Bam Earthquake (December 2003)
The earthquake on 26 December 2003 with magnitude 6.3-6.6 destroyed most of the acient city of Bam and nearby villages, and killed more than 26,000 people.
Drought (April 1999)
Severe drought in 1999 cut wheat production by more than 3 million tonnes, or about 25 percent compared to the previous year. It affected estimated 37,000,000 people.
Earthquake (June 1990)
A magnitude 7.4 earthquake occurred in the Gilan Province between the towns of Rudbar and Manjil in northern Iran on 21 June 1990. Estimated 40,000 people were killed and 710,000 people affected due to this earthquake.
Organization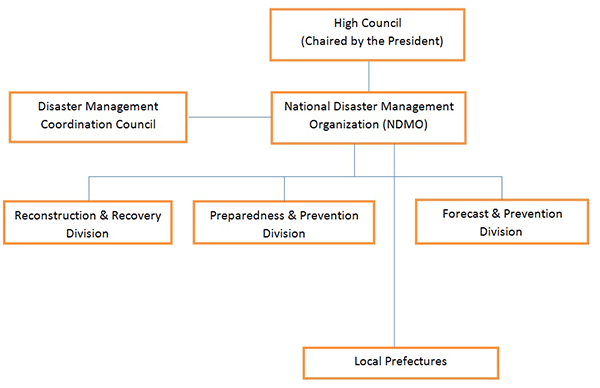 The National Disaster Management Organization (NDMO) was established in 2008.
The High Council for Disaster Management is chaired by the President and its members consist of relevant Ministers, Mayor of Tehran, Commander of Armed Forces, one of the deputies of the Speaker of the Islamic Consultative Assembly, First deputy of the Judiciary, Heads of Management and Planning Organization, the Islamic Republic of Iran Broadcasting Corporation, Head of Red Crescent Society of the Islamic Republic of Iran, care taker of the Imam Khomeini Relief Committee, Head of State Meteorological Organization, Head of Housing Foundation of the Islamic Revolution, as well as the Head of the NDMO.
The NDMO is affiliated to the Ministry of Interior and chaired by Interior Deputy Minister.
Plan
ADRC Counterpart