TOP PAGE
> Information on Disaster Risk Reduction of the Member Countries
Information on Disaster Risk Reduction of the Member Countries
France
General Information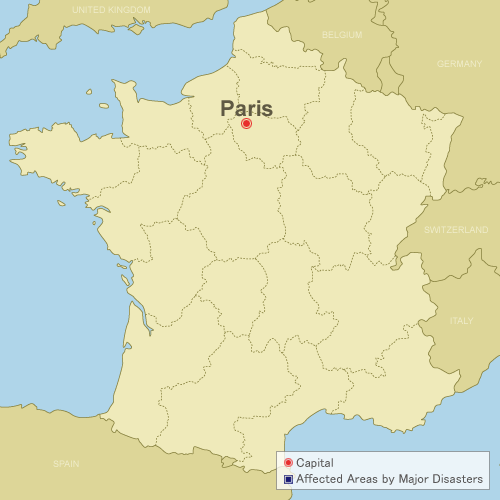 Formal Name: French Republic
France is located in South-Western Europe, and bordered by Belgium and Luxembourg to the North-East, Germany and Switzerland to the East, Italy and Monaco to the South, and Andorra and Spain to the South-West. The area of France is 547,030 square kilometers, with large tracts of flat land, except the natural borders of hills and mountains from the East to the South. A continental climate prevails in the Eastern inland areas, a Mediterranean climate in the South, and a maritime climate in the Atlantic coastal areas.
The capital is Paris. The population is 65.82 million (as of 1 January 2014)
Overview of Disasters
Floods, landslides and storms often occur in France. In summer times, heat waves, forest fires and drought are getting to occur more and more frequently. South-Eastern France also experiences earthquakes and volcano activities.
Recent Major Disasters
Storm (February 2010)
Strong winds combined with heavy rain and high tide caused the failure of several dykes in South-Western France, claiming 53 lives and causing approximately US$ 4,230,000 damages.
Heat Wave (August 2003)
Seven days with temperatures of more than 40 degrees centigrade between July and August 2003 claimed 19,490 lives and caused approximately US$ 4.4 billion damages.
Storm Lothar (December 1999)
Two storms crossed France on 26 December 1999, killed 92 people and affected 34 million people. It caused about US$ 8 billion damages in France.
Disaster Management System
Legal System
Organization
Plan
ADRC Counterpart
Disaster Information (The latest 10)