TOP PAGE
> Information on Disaster Risk Reduction of the Member Countries
Information on Disaster Risk Reduction of the Member Countries
Myanmar
General Information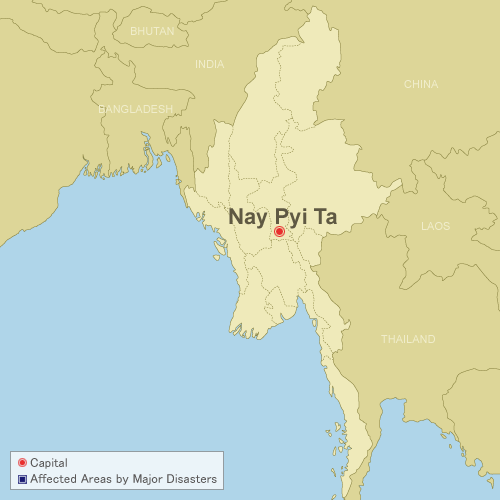 Formal Name: Republic of the Union of Myanmar
Located in the west of Indochina Island, Myanmar borders Thailand, Lao, PDR, Bangladesh and India. Land area is about 680,000 square kilometers. It faces the bay of Bengali and the Indian Ocean. Indo-Australia Plate and Eurasia Plate cause earthquake.
The capital is Naypyitaw. It has 56.52 million(2006-2007) population. 70 percent of the population is Bamar, while others are various national races.
Overview of Disasters
Fire, floods, cyclone are the frequent disasters.
Recent Major Disasters
Cyclone Nargis (May 2008)
Cyclone Nargis hit Myanmar in May 2008 which killed 84,537, with the missing 53,836, injured 19,359. 450,000 houses were destroyed, with other 350,000 damaged. Total affected people were 2.4 million. Total economic loss was US$ 4.1 billion (according to Post-Nargis Joint Assessment- PONJA).
Indian Ocean Tsunami (December 2004)
Indian Ocean Tsunami occurred off the Sumatra Island on 26 December 2006 killed 61, injured 42, affected 2,592 and destroyed 601 houses in Myanmar.
Flood (July 1991)
Torrential rains started on 13 July 1991 caused flood in the northern Myanmar which destroyed 74,740 houses and affected 360,000 people.
Disaster Management System
Legal System
The Rehabilitation Board Act (1950), the Board of Development Affairs Act (1993), the Epidemic Diseases Prevention Act (1995), the Implementation of Insurance Act (1996), and the Fire Services Act (1997) has been promulgated. Disaster Management Law has enacted in 2013.
Organization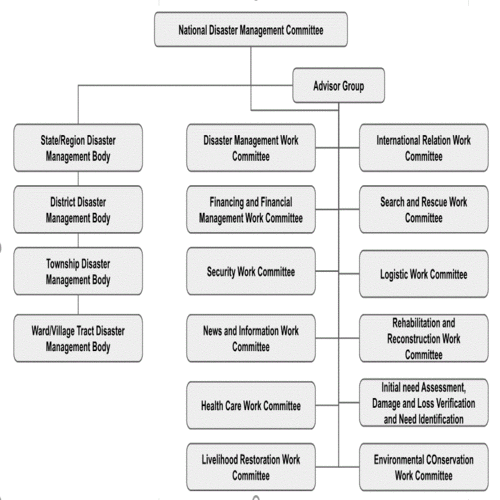 In order to effectively carry-out disaster preparedness and prevention measures the Government established a Central Committee for Disaster Prevention and Relief, a policy formulating body headed by the Minister of Home Affairs.
Fire Services Department under Ministry of Home Affairs is responsible for fire precaution, fire prevention, extinction, training of fireman, relief and rescue work, educating the public for awareness of fire and disasters.
Plan
Department of relief and resettlement have cooperated with the Department of Health, Department of Meteorology and Hydrology, Fire Services Department, Human Settlement and Household Development Department, Irrigation Department and Myanmar Red Cross society in the field of disaster prevention and reduction measure.
ADRC Counterpart