TOP PAGE
> Information on Disaster Risk Reduction of the Member Countries
Information on Disaster Risk Reduction of the Member Countries
Viet Nam
General Information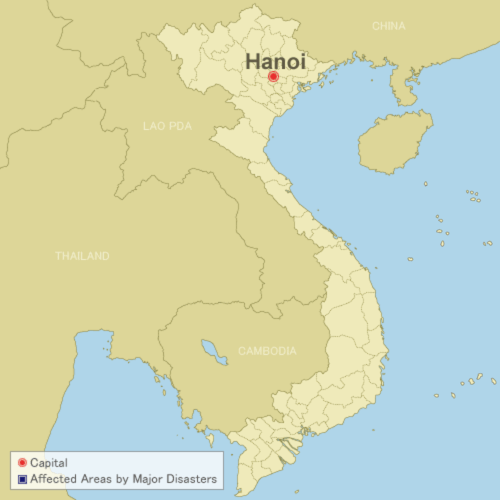 Formal Name: Socialist Republic of Viet Nam
Vietnam is located in eastern Indochina, and borders with China, Lao, PDR and Cambodia. Narrow strip of land is 329,241 square kilometers in area. Southern part has the Mekong Delta and plains, whilst the central area is composed of mountains and slopes. North is mountainous and hilly, except the Red River Delta in the south. Tropical climate in the south and temperate in the north, with rainy season from April to October. In the mountains annual precipitation sometimes rise up to 4000mm. From October to March is dry season.
Capital is Hanoi. Out of 85.2 million people, 86 percent are the Kin. The population includes 53 other ethnic minority residents.
Overview of Disasters
Typhoon hit Vietnam from May to January sometimes triggering floods of the Mekong River. Windstorms, floods, epidemic, drought, insect infestation, slides, wild fires are main disaters in Vietnam.
Recent Major Disasters
Typhoon Linda (November 1997)
Typhoon Linda which hit Vietnam in November 1997 killed 3,111 and affected more than one million people. Approximately 77,000 houses were destroyed and the estimated total loss was US$470,000.
Central Vietnam Flood (November 1999)
Flooding in Central Vietnam in November 1999 killed 749 people, destroyed 49,094 houses and the estimated loss was US$240,000.
Tropical Storm Kammuri (August 2008)
Tropical Storm Kammuri which hit the northern Vietnam in August 2008 caused heavy rains and storm wind, and subsequent floods and landslides. It killed 133 people with the missing 34, destroyed 990 houses, and the estimated total loss is US$11.5 billion.
Disaster Management System
Legal System
Decree No. 168-HDBT (May 19, 1990) of the Council of ministers established and outlined the tasks of the Central Committee of Storm and Flood Control (CCSFC), and committees and sectors at all levels (provincial, district and village).
Organization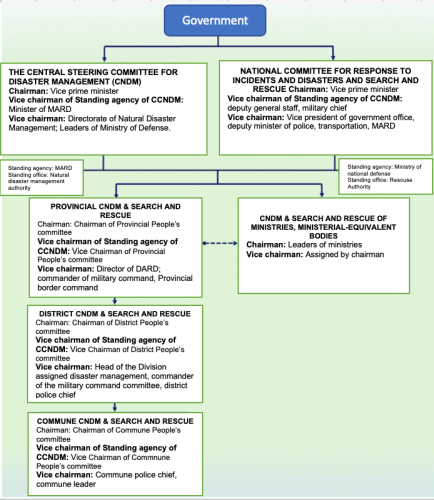 At the Central level, the National Committee, an inter-ministerial institution serves as a coordinating body for disaster reduction efforts in Viet Nam. Its secretariat is provided by the Department of Dike Management and Flood Control (DDMFC) of the Ministry of Agriculture and Rural Development (MARD).
The CCSFC (Central Committee for Flood and Storm Control, Ministry of Agriculture & Rural Development)
formulates all regulations and mitigation measures related to typhoons and floods. Emphasis is on dike protection, surveillance and maintenance. Local emergency work is coordinated by the provincial CSFC.
Plan
First National Strategy and Action Plan for Mitigating Water Disaster was prepared in 1994 through a national consultation process. It identified the need for a multi-sectoral and multi-disciplinary approach to reduce the vulnerability of the country and improve its capacity to cope with the adverse impacts of natural threats. It serves as a basis for annual state plans. The plan has strengthened institutions for disaster mitigation and management.
Second Strategic Action Plan (2001-2020) set up several strategies in disaster mitigation and management that aim to reduce disasters and their impacts on people, property, agriculture, economic well-being, environment, and sustainable development. It lays down responsibilities of various implementing bodies.
The National Strategy for natural disaster prevention, response and mitigation to 2020)was approved by the Prime Minister on 16 November 2007.
ADRC Counterpart
Disaster Information (The latest 10)