TOP PAGE
> Information on Disaster Risk Reduction of the Member Countries
Information on Disaster Risk Reduction of the Member Countries
India
General Information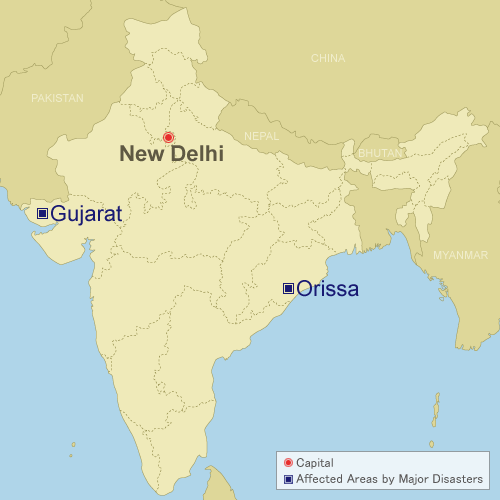 Formal Name: India
Having 3,287,263 sq km (including disputed region with China) land, India occupies most of the Indian subcontinent. It borders with Pakistan, China, Nepal, Bhutan, Bangladesh, and Myanmar on land, Sri Lanka, Maldives, Indonesia at sea. Upland plain (Deccan Plateau) in south, flat to rolling plain along the Ganges, deserts in west, Himalayas in north.
The capital is Delhi. More than 10 million population consists of variety of religious, linguistic and ethnic groups.
Overview of Disasters
India is a disaster-prone country with frequent earthquakes, floods, cyclones, drought, tsunami, landslide, and avalanches.
Recent Major Disasters
Indian Ocean Tsunami (December 2004)
The Indian Ocean Tsunami which took place off the Sumatra Island on 26 December 2004 killed 16,389 people, injured 6,913 people and affected about 65 million people. The total damage is about US10 billion.
Gujarat Earthquake (January 2001)
M7.7 earthquake occurred in Gujarat Province (western India) on 26 January 2001. At least 20,005 people were killed, 166,812 injured, approximately 360,000 buildings destroyed and 15 million people affected in Gujarat. The total damage is US4.6 billion.
Orissa Super Cyclone (October 1999)
A massive cyclone that hit Orissa (northeast of India) on 29 October 1999 killed 9,887, affected approximately 13 million people, and destroyed 800,000 houses.
Disaster Management System
Legal System
The Indian Government formulated a national disaster management framework in 2004 and promulgated the Disaster Management Act, 2005- DM ACT in 2005.
Organization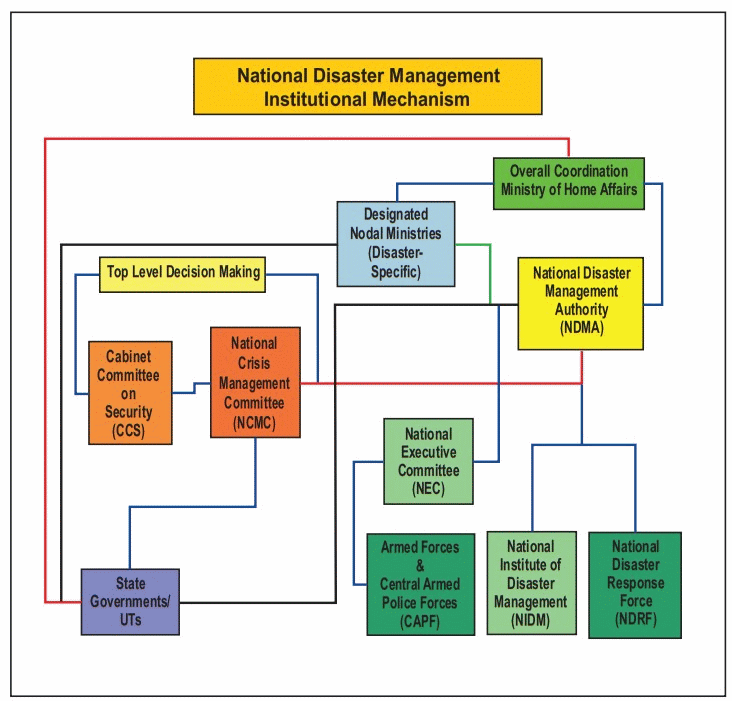 The
National Disaster Management Authority (NDMA)
, headed by the Prime Minister of India, is in charge of creating and implementing disaster management policies, DM plans and guidelines. State level DM bodies are the State Disaster Management Authorities (SDMAs).
Under the umbrella of the NDMA, there is an institution promoting capacity building for disaster mitigation and emergency response which is called the
National Institute of Disaster Management, NIDM
, and emergency disaster response force which is called the National Disaster Response Force (NDRF).
Plan
Although there is no sector-specific disaster management plans, there is a clear statement that emphasizes the need for the development plans safe from disasters in the chapter on environment and climate change in the 11th national five-year national plan period (2007-2012).
Since the Disaster Management Act requires the formulation of disaster management plan, the NDMA published the National Disaster Management Guidelines: Preparation of State Disaster Management Plans in July, 2007.
ADRC Counterpart
Disaster Information (The latest 10)