TOP PAGE
> Information on Disaster Risk Reduction of the Member Countries
Information on Disaster Risk Reduction of the Member Countries
Kyrgyz Republic
General Information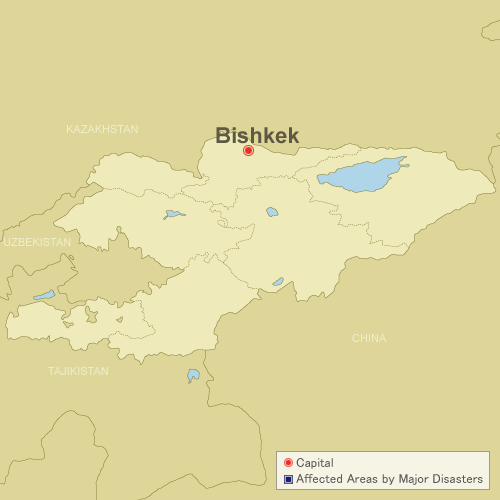 Formal Name: Kyrgyz Republic
Kyrgyz is a landlocked country located in eastern Central Asia. It borders China, Kazakhstan, Tajikistan, and Uzbekistan. Land area is 198,500 square kilometer. Most of the Kyrgyz terrain is covered with mountains. Dry continental to polar in high Tien Shan; subtropical in southwest (Fergana Valley); temperate in northern foothill zone.
The capital is Bishkek. 65 percent of the 5.4 million population is Kyrgyz, 13.8 percent Uzbek, 12.5 percent Russian, and 1 percent Ukraine.
Overview of Disasters
Kyrgyz suffers from Earthquakes, floods, landslides and avalanches.
Recent Major Disasters
Earthquake (October 2008)
On 5 October 2008 an earthquake of magnitude 6.6 on Richter scale occurred in the South of Kyrgyzstan. 72 were killed, approximately 150 were injured, and 1,200 were affected due to the earthquake.
Sediment Disaster (April 1994)
Massive landslides and debris flows caused by torrential rains and the thaw in April 1994 killed 111, destroyed 520 houses, by which 13,200 people became homeless.
Earthquake (August 1992)
On 18 August 1992, an earthquake of magnitude 6.5-7.5 took place near the border of China. Due to the earthquake, 54 were killed (including the missing), and more than 100 people were injured, with over 86,000 people being affected.
Disaster Management System
Legal System
The Decree of the Kyrgyz Republic "On protection of population and territory from natural and man-made emergency" was approved in 2000.
Organization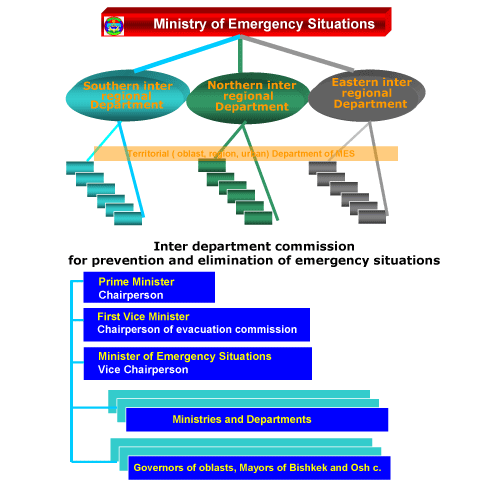 The Inter Department Commission for Prevention and Elimination of Emergency Situations (IDC) was established in 2000.
The
Ministry of Emergency Situations
is an independent institutional structure responsible for working out measures for the prevention of emergencies, the protection of people and national property, and for increasing the stability of economic objects in the event of a disaster. The Emergency Response Center is established under the IDC.
Disaster Information (The latest 10)