TOP PAGE
> Information on Disaster Risk Reduction of the Member Countries
Information on Disaster Risk Reduction of the Member Countries
United States of America (the)
General Information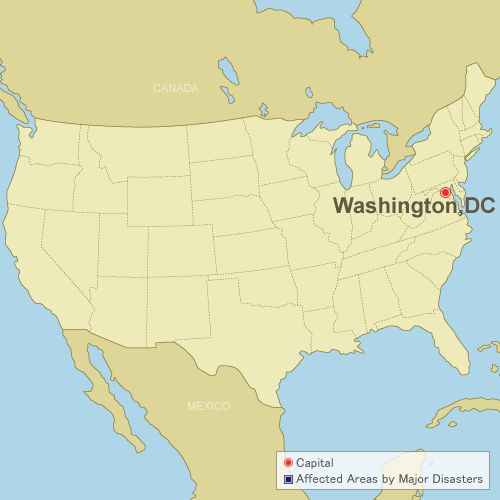 Formal Name: United States of America
The United States is situated mostly in central North America and bordered by Canada to the north and Mexico to the south. The area with 9.628 million square kilometers consist of forty-eight states in mainland, the state of Alaska, and the state of Hawaii. It has geographic variety with its large size, divided by the old mountainous area of the eastern states, the coastal plain of the Atlantic seaboard, the western states with rugged mountains, and the flat prairie in the central states. It also has most climate types from a polar climate in Alaska and a tropical climate in Florida, and from an oceanic climate to a continental climate.
The capital is Washington, D.C. The population is 281.42 million. It contains a diversity of races, such as European descent, African descent, indigenous population, and Asian and Pacific descent.
Overview of Disasters
The United States has wide variety of disasters such as earthquake, Tsunami, flood, sediment disasters, volcanic eruption, hurricane, tornado, drought, heat wave, heavy snow, forest fire, and coastal erosion.
Recent Major Disasters
Flood (June 2008)
After months of heavy precipitation, a number of rivers overflowed their banks for several weeks at a time and broke through levees at numerous locations. 24 people were killed, and 11,000,000 people were affected. Estimated damage cost is US$10 billion.
Hurricane Katrina
During the period of 23 to 30 August 2005, a hurricane which is named Katrina caused severe destruction along the Gulf coast from central Florida to Texas. The total number of fatalities is 1,833, and over 1.2 million people were affected. A preliminary estimate of the total damage cost is assumed to be roughly $81 billion.
Northridge Earthquake (January 1994)
In the morning of 17 January 1994, an earthquake of magnitude 6.7 occurred in the Los Angeles region of southern California. 57 people died, more than 9,000 were injured, more than 20,000 were displaced, and more than 1,600 buildings were totally damaged.
Disaster Management System
Legal System
Presidential Policy Directive 8: National Preparedness (PPD-8) is aimed at strengthening the resilience and security of the United States through systematic preparation for threats that pose the greatest risk to the security of the Nation, including major natural disasters, terrorism, cyber attacks, and pandemics. Whilst this directive serves to stimulate Federal Government action, it is also aimed at facilitating an integrated, all-of-Nation, capabilities-based approach to preparedness.
Organization
Subcommittee on Disaster Reduction (SDR)
is an a subcommittee of the Committee on Environment and Natural Resources (CENR) under the President's National Science and Technology Council and facilitates national strategies for reducing disaster risks and losses that are based on effective use of science and technology.
Federal Emergency Management Agency (FEMA)
is set up under the U.S. Department of Homeland Security (DHS) to lead and support the Nation in a risk-based, comprehensive emergency management system of preparedness, protection, response, recovery, and mitigation.
Plan
A series of 14 hazard-specific implementation plans which identifies priority actions for science and technology to meet the "Grand Challenges for Disaster Reduction" was released in April 2008.
National Response Framework which defines the principles, roles, and structures that organize how to respond to disasters as a nation was published in May 2008.
ADRC Counterpart
Country Report
Sorry, country report of this country is not ready yet.