TOP PAGE
> Information on Disaster Risk Reduction of the Member Countries
Information on Disaster Risk Reduction of the Member Countries
Switzerland
General Information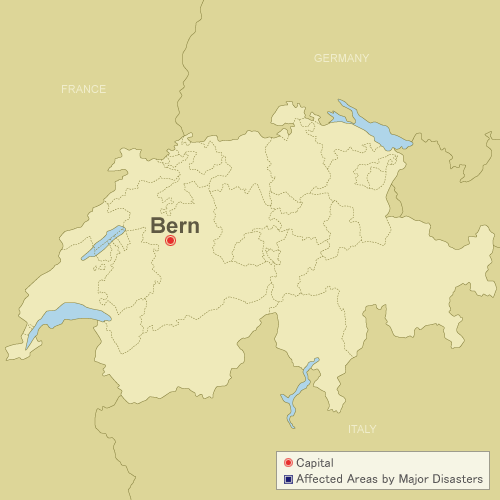 Formal Name: Swiss Confederation
Swiss is located in south central Europe, and bordered by Austria and Liechtenstein to the east, Italy to the south, France to the west, and Germany to the north. More than 70% of the area with 41,285 square kilometers is mountainous. Most of the people live on central plateau. The Swiss climate is generally temperate, but snowy in mountainous areas through the year.
The capital is Bern. The population is about 7.59 million.
Overview of Disasters
Switzerland is prone to floods, landslides, storms and avalanches.
Recent Major Disasters
Flood (August 2005)
During the period 21 to 23 August 2005 severe floods occurred in many torrents and mountain rivers along the northern side of the Alps in Switzerland, which killed 6 people, affected 2,500 people, and caused 1,750 million Euro.
Snow Avalanche (Jan-Feb, 1999)
During the period of 26 January to 25 February, 720 avalanches were occurred killing 17 people.
Storm (December 1999)
On 26 December 1999, the storm Lothar hit Switzerland, followed by the storm Martin during the night from 27 to 28 December. Two storms killed 14 people and caused great damage to forests, buildings and infrastructures.
Disaster Management System
Legal System
A comprehensive legal framework is in place in the fields of civil protection, the protection of the natural environment, the sustainable use and management of natural resources (e.g. the Federal Law on River Training, 21. June 1991; the Federal Law on Forests, 4. October 1991), and land use planning (Federal Law on Land Use Planning, 22. June 1979).
Organization
PLANAT (the National Platform for Natural Hazards) was created in 1997 by the Swiss Federal Council and made responsible for coordinating concepts in the field of prevention against natural hazards.
Plan
Protection against Natural Hazards in Switzerland: Vision and Strategy
ADRC Counterpart
Disaster Information (The latest 10)