TOP PAGE
> Information on Disaster Risk Reduction of the Member Countries
Information on Disaster Risk Reduction of the Member Countries
Philippines (the)
General Information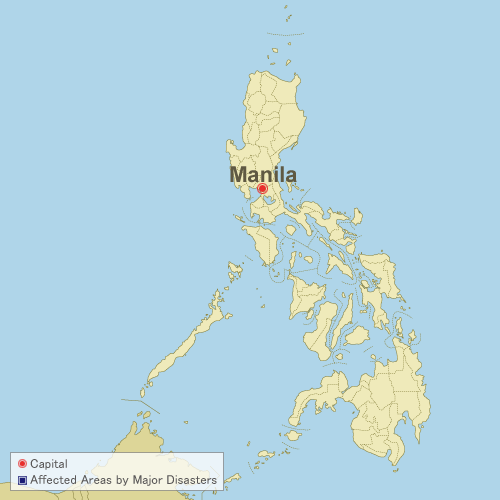 Formal Name: Republic of the Philippines
The Republic of the Philippines (RP) is located in Southeast Asia, bordered by the Pacific Ocean to the east, the West Philippine Sea to the west, and the Celebes Sea to the south. The Philippines constitutes an archipelago of 7,109 islands with a total land area of approximately 299,764 square kilometers. The Philippines has a tropical and maritime climate. It has two major seasons: the rainy season, from June to November; and the dry season, from December to May.
The capital is Manila. The population is 88.57 million as of August 2007. The Filipino is basically of Malay stock with a sprinkling of Chinese, American, Spanish and Arab blood, and other ethnic minorities.
Overview of Disasters
Located along the typhoon belt in the Pacific, the Philippines is visited by an average of 20 typhoons every year, five of which are destructive. Being situated in the "Pacific Ring of Fire" makes it vulnerable to frequent earthquakes and volcanic eruptions. Its geographical location and physical environment also contributes to its high-susceptibility to tsunami, sea level rise, storm surges, landslides, flood/flashflood/flooding, and drought.
Recent Major Disasters
Volcanic Eruption of Mt. Pinatubo (June 1991)
Volcanic eruption of the Mount Pinatubo in June 1991 was the largest volcanic explosion in the 20th century. It killed 640, affected 1,036,065. About 40,000 houses were destroyed, and more than 70,000 houses were damaged.
Super Typhoon Haiyan (November 2013)
Super Typhoon Haiyan, locally known as Typhoon Yolanda entered the Philippine Area of Responsibility (PAR) on 6 November 2013 and created new history for the Philippines. It affected a total of 3,424,593 Families or 16,078,181 Persons. Killing 6,318 persons, 28,689 were injured and 1,061 were still missing. It destroyed 1,140,332 houses and damaged a total of 19.6B pesos worth of Infrastructures and 20.3B pesos worth of Agriculture.
Luzon Earthquake (July 1990)
M7.6 earthquake occurred in the central Luzon killed 2,412, affected 1,597,553, and destroyed 100,000 houses with the estimated total loss of US$250million.
Disaster Management System
Legal System
Organization
Plan
ADRC Counterpart
Disaster Information (The latest 10)