TOP PAGE
> Information on Disaster Risk Reduction of the Member Countries
Information on Disaster Risk Reduction of the Member Countries
Bhutan
General Information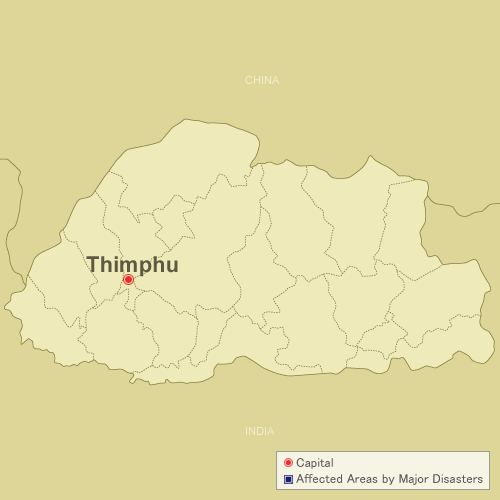 Formal Name: Kingdom of Bhutan
Bhutan is a landlocked country, sandwiched between the two Asian giants, with Tibetan plateau of China bordering the north and east, west and south by India. It has a total area of 38,394 square kilometers, located on the southern slopes of the Eastern Himalaya. It is characterized by a unique topography with land elevation ranging from 150m in the southern foothills gradually rising to about 7,000m towards the north. The country is endowed with numerous glaciers fed rivers that are being exploited to generate electricity. Bhutan has four seasons and the climatic condition varies with hot subtropical climate in the south to cool winters and hot summers in central valleys and severe winters to cool summers in the north. Bhutan has a population of 745,153 as of 2014 census record. The capital of Bhutan is Thimphu.
Overview of Disasters
Bhutan, like the rest of the world, has not been spared by the fury of natural hazards and is susceptible to many kind of it. Geo-physically, Bhutan is located in the young Himalayan Mountains and considered to be one of most seismically active zones in the world. As per the Indian Seismic Code, Bhutan lies in the seismic zone IV and V, which is most active zones. Considering the location and as proven by the past earthquakes, earthquake is the one of the most imminent hazards in Bhutan. As a result of global warming, Glacier Lake Outburst Flood (GLOF) poses another risk to the people of Bhutan. Due to the climatic change, the seasonal strong wind becoming one of the hazards in Bhutan, it causes lots of damages to the rural homes in Bhutan. The 2011 and 2013 Windstorm caused huge damage to rural homes in Bhutan. Other hazards such as landslides, flash flood and forest/structural fires also sweep across the country causing significant losses to the properties and lives of people.
Recent Major Disasters
Earthquake (September 2011)
Bhutan was hit by an earthquake on the 18 September 2011, measuring 6.9 magnitude on the Richter scale causing a loss of one life due to the landslide triggered by the earthquake, 14 injuries and structural damages worth of Nu 1,197.63 million (approx. 24.5 million USD).
Flash Flood (June 2013)
A flash flood caused by incessant heavy rain affected 6 Blocks of Punakha District. Several acres of land were filled with debris and sand; some of them were washed away. One Culvert bridge was washed away.
Windstorm (December 2013)
13 Districts, 53 Blocks and 1 Town were affected by the windstorm of 15th December, 2013. 979 private houses, 12 schools, 50 Lhakhangs/Nunneries/Monasteries, 3 Geog (Block) Offices & 8 Basic Health Unit/Outreach Clinic were damaged.
Disaster Management System
Legal System
Organization
Plan
ADRC Counterpart
Disaster Information (The latest 10)