TOP PAGE
> Information on Disaster Risk Reduction of the Member Countries
Information on Disaster Risk Reduction of the Member Countries
Malaysia
General Information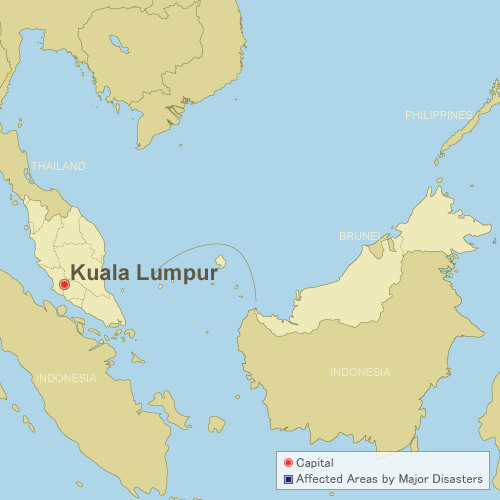 Formal Name: Malaysia
Malaysia consists of the southern Malay Peninsula and northern Borneo. Neighboring countries are: Indonesia, Singapore and Thailand. Land area is about 330,000 square kilometers. Approximately 70 percent of the land is tropical forest. Tropical climate, with monsoon from April to October (southwest), from October to February (southeast).
Kuala Lumpur is the capital. Out of 26.57 million people, 66 percent is Malay, 26 per cent is Chinese, 8 per cent is Indian origin.
Overview of Disasters
Most common hazards in Malaysia are flood, landslides, haze (local and trans boundary) and forest fire.
Recent Major Disasters
Indian Ocean Tsunami (December 2004)
The Indian Ocean Tsunami which occurred off the Sumatra Island after a massive earthquake (M9.1) killed 80, affected 5,063.
Flood (December 2007)
Floods triggered by torrential rains in northeastern, central and southern part of Malaysia killed 33, and affected 158,000 in December 2007.
Tropical Cyclone Greg (December 1996)
In December 1996, tropical cyclone Greg which hit Keningau in Sabah killed 270 and destroyed 5,000 houses whose total loss is estimated to be US$ 52,000.
Disaster Management System
Legal System
The National Security Council (NSC) Directive No. 20 promulgated in 1997 states the mechanism on the management of disasters including the responsibilities and functions of the various agencies under an integrated emergency management system.
The Land Conservation Act, Environmental Quality Act (1974), and the Local Government Act (1976) and the Road, Drainage and Building Act also refer to disaster management.
Organization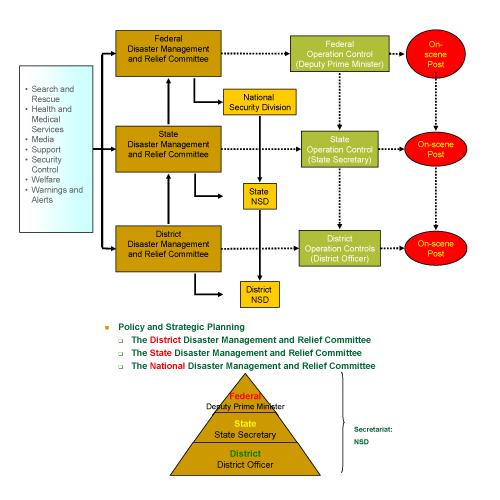 The National Security Division (NSD) in the Prime Minister\'s Department is responsible for coordination of all activities related to disaster.
Disaster Management And Relief Committee (DMRC) carries out the responsibilities of the NSC in coordinating all the activities related to disaster management. DMRC are established at three different levels, i.e. at the Federal, State and District levels, whereby the NSD is the Secretariat. At the federal level, DMRC is responsible in the formulation of national polices and strategies regarding the alertness and the preparation of various agencies involved in the handling of disasters.
Plan
Standard Operating Procedures (S.O.P.) stipulates the procedures to take in times of disaster.
ADRC Counterpart
Disaster Information (The latest 10)