TOP PAGE
> Information on Disaster Risk Reduction of the Member Countries
Information on Disaster Risk Reduction of the Member Countries
China
General Information
Formal Name: People's Republic of China
People's Republic of China is located in eastern Eurasia. Having an area of approximately 9.6 million square kilometers, China enjoys the third largest land area in the world after Russia and Canada. Adjacent countries are: Democratic People's Republic of Korea (east), Mongolia (north), Russia (northeast), Kazakhstan, Kyrgyzstan and Tajikistan (northwest), Afghanistan, Pakistan, India, Nepal, Sikkim, Bhutan (west and southwest), and Myanmar, Laos, Vietnam (south). It borders with Korea, Japan, Philippines, Brunei and Malaysia at sea. Diverse climate reflecting vast extent of land: tropical in south and sub-arctic in north. Fertile hills and plains spread in the east. China has four river systems: Yangtze River, Yellow River, Heilongjiang and the Pearl River.
The capital is Beijing. It has a population of about 1.3 billion. 92 percent of the total population is Han Chinese.
Overview of Disasters
China suffers from a variety of disasters including earthquakes, extreme climate changes, floods, storms, storm surges, forest fires, drought, insect damage, landslides and slope failure. In particular, earthquakes, drought and cyclone give major damages.
Recent Major Disasters
Sichuan Earthquake (May 2008)
On 12 May 2008, a massive earthquake measuring 7.9 (USGS) struck Sichuan province. It killed 87,476people, affected 45,976,596, and total economic loss was US$85,000million.
Typhoon Bilis (July 2006)
Cyclone Bilis that hit China on 14 July 2006 triggered floods and landslides. Due to the cyclone, 820 were found dead (including missing), 29,623,000 affected, and 263,000 lost their houses.
Yunann Earthquake (February 1996)
On 3 February 1996, a magnitude 7.0 earthquake that hit the province of Yunnan, killed 309 people, affected 5,077,795 people, whose economic loss was US$506 million.
Disaster Management System
Legal System
More than 30 laws and regulations have been promulgated and implemented on disaster reduction, which include the Law on Water and Soil Conservation, the Law on Earthquake Prevention and Disaster Reduction, the Law on Fire-Fighting, the Meteorological Law and the Law on Production Safety.
Organization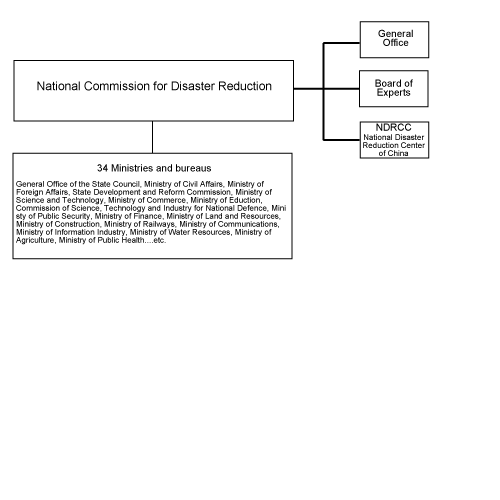 China National Commission for the International Decade on Natural Disaster Reduction was established in 1989. In 2000, it was renamed China Commission for International Disaster Reduction. In January of 2005, it was renamed as China National Committee for Disaster Reduction (NCDR), headed by a Vice Premier of the State Council. It is composed of 34 ministries and departments, including relevant military agencies and social groups. It functions as an inter-agency coordination body under the State Council, which is responsible for studying and formulating principles, policies and plans for disaster reduction, coordinating major disaster activities, giving guidance to local governments in their disaster reduction work, and promoting international exchanges and cooperation.
Plan
In April 1998, the Chinese Government promulgated the National Natural Disaster Reduction Plan of the People's Republic of China (1998 -2010), the first national disaster reduction plan formulated in accordance with the Ninth Five-Year National Economic and Social Development Plan and the 2010 Long-term Objective. The Disaster Reduction Plan identified includes: disaster reduction should be deeply considered in national economic and social development; prevention should be taken as the priority in combination with resistance and relief; The role of science, technology, and education should be incorporated in disaster reduction; the central and local governments as well as all social sectors should be to reduce disasters; and international exchange and cooperation should be strengthened.
ADRC Counterpart