TOP PAGE
> Information on Disaster Risk Reduction of the Member Countries
Information on Disaster Risk Reduction of the Member Countries
Tajikistan
General Information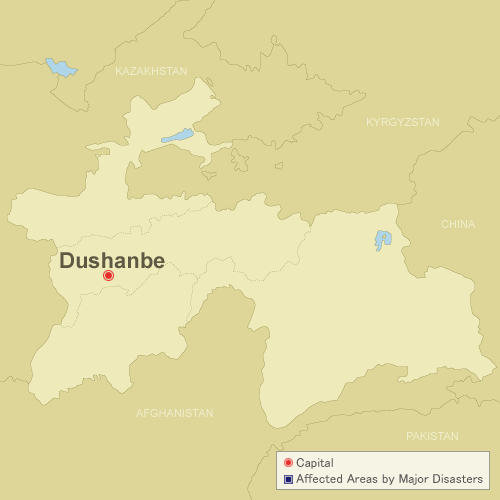 Formal Name: Republic of Tajikistan
Located in the southeast of the Central Asia, Tajikistan borders China, Kyrgyz, Uzbekistan and Afghanistan. It is an inland country with the land area of 143,100 square kilometer. 93 percent of the land is mountainous. Continental climate in midlatitude area. Hot summers and mild winters. Semiarid to polar in Pamir Mountains.
The capital is Dushanbe. Population size is 6.8 million, out of which 64.9 percent is the Tajik, 25 percent Uzbek and 3.5 percent Russian.
Overview of Disasters
Tajikistan is prone to earthquake, flood, debris flow (landslide), drought, avalanche, wind damage, epidemics.
Recent Major Disasters
Drought in 2000
Severe drought hit Takistan with which 3 million people were affected and whose economic loss was US$ 57 million on and after July 2007.
Flood (June 2005)
In June 2005, the temperature rises rapidly after heavy rains which caused mudslides and extensive flooding throughout the country. In the northern province of Tajikistan, 110 houses were destroyed with 299 damaged. Death toll was eight, with 3,222 affected.
Cold Wave (Jan-Feb 2008)
Abnormally cold weather conditions in Tajikistan, causing heavy snow fall and frozen rivers, have led to damage of water and electrical supply systems and isolation of mountainous villages. Two million people were affected and the total loss was US$ 250 million.
Disaster Management System
Legal System
Government of the Republic of Tajikistan Decree No.400 "On the establishment of the Committee for Emergency Situations and Civil Defense" (17 August 1994), is the first legal provision in the field of protecting the population and territories from natural and manmade emergency situations.
Organization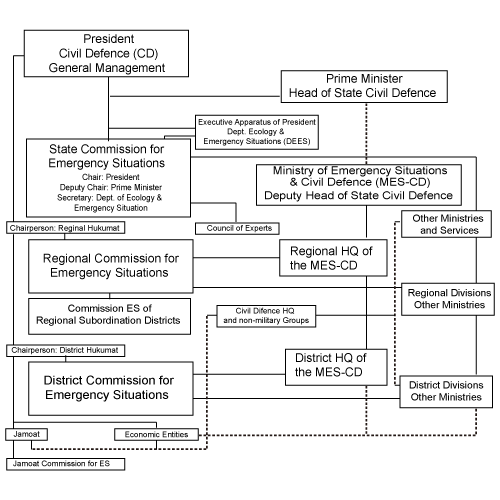 State Commission for Emergencies was establishment in 2002. This Commission gained the status of the Republican coordinating agency during various emergencies. The Chairperson of the State Commission for Emergencies is the President of the Republic of Tajikistan and its members are chiefs of the relevant ministries and departments. At the local levels, heads of local authorities (regions, districts, cities and Jamoats) are responsible for the Commission of each level.
The Ministry of Emergency Situations and Civil Defense is working closely with the international community, in order to consolidate all the various sectors of disaster management into a Disaster Preparedness plan.
Disaster Information (The latest 10)