TOP PAGE
> Information on Disaster Risk Reduction of the Member Countries
Information on Disaster Risk Reduction of the Member Countries
Yemen
General Information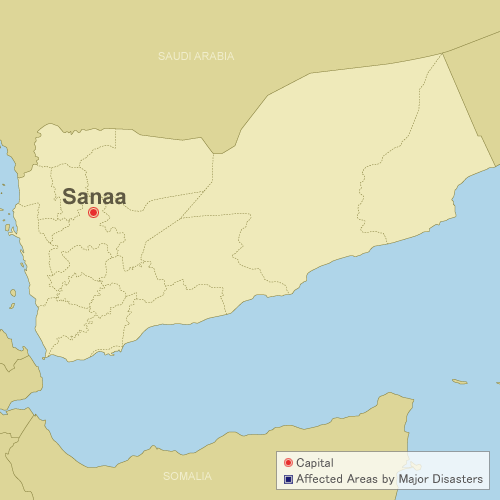 Formal Name: Republic of Yemen
Located in the southern part of the Arabian Peninsula, Yemen faces the Red Sea, the Gulf of Aden and the Arabian Sea. It borders Saudi Arabia and Oman, in addition to Somalia at the Gulf of Aden. Land area is 555,000 square kilometers. Mountainous in the north whilst dessert spreads in the south. The Nabi Shuwaib, a 3,660 meters high mountain, is located near the capital.
The capital, Sanaa, is located in the altitude of 2,300 meters high. Most of the 22.22 million population is occupied by the Arab.
Overview of Disasters
Yemen is prone to flood, landslide, flash flood and earthquake.
Recent Major Disasters
Flood (October 2008)
Heavy rain caused a flood in the south east of Yemen, which killed 90 with 25,064 affected in the late October 2008.
Flood (June 1996)
Flood occurred in June 1996 in the southern part of Yemen killed 338, with 1,820 destroyed houses and 22,842 homeless.
Earthquake (November 1991)
On 22 November 1991, earthquake measuring 4.4 on Richter Scale occurred 140 Km south of Sanaa. Due to the earthquake, 10 people were killed, 40,039 were affected and 11,900 houses were destroyed.
Disaster Management System
Legal System
The government of Yemen is currently under discussion on formulating legal framework on disaster management.
Organization
In 1998, Supreme Civil Defence Council (CDC) was established as multi-stakeholders committee to address the disaster response coordination and commitments by a presidential decree.
In 2004, the Ministry of Interior has established a Disaster Management Unit (DMA) to coordinate the disaster response agenda.
In 2005, National Team for Environmental Emergencies and Disaster Risk Reduction (NTEDR) was established under supervision of the Minister of Water & Environment.
Plan
In 2004, MWE started to introduce the concepts of risk reduction through multi-stakeholders approach. In 2006, the Ministry of Water and Environment (MWE) with the National Team (Platform) of Environmental Emergencies and Disaster Risk reduction (NTEDR) has developed a Nation Environmental Contingency Plan and Rapid Environmental Assessment in Disaster Guidelines. The Ministry of Interior developed a draft of the national Disaster Management Plan in 2005.
National Strategy for Disaster Risk Management is now in under consideration (as of 2008).
ADRC Counterpart