TOP PAGE
> Information on Disaster Risk Reduction of the Member Countries
Information on Disaster Risk Reduction of the Member Countries
Uzbekistan
General Information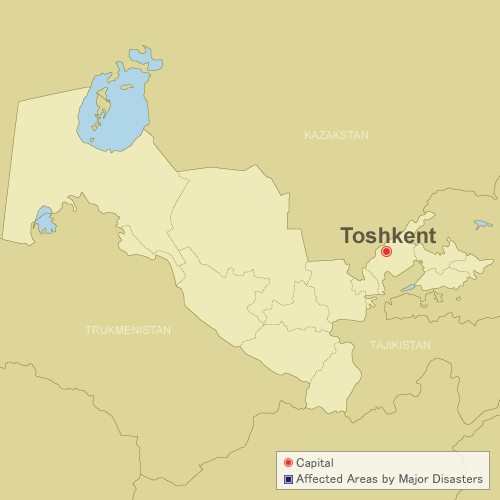 Formal Name: Republic of Uzbekistan
Uzbekistan is located in the heart of the Central Asia. It borders Kazakhstan to the north, Afghanistan and Turkmenistan to the south, Tajikistan and Kyrgyz to the east. Land area is 447,400 square kilometers. Most of the land being occupied by desert, only 10 percent of the land is arable. Continental Climate.
The Capital is Tashkent. 80 percent of the 27.8 million population is Uzbek, 5.5 percent being the Russian, 5 percent being Tajik and 3 percent Kazakh.
Overview of Disasters
Earthquake, Drought, landslide, epidemics and flood are the major disasters in Uzbekistan.
Recent Major Disasters
Earthquake (April 1966)
On 25 April 1966, M5.0 earthquake occurred in the capital, Tashkent. 10 people were killed, 1,000 affected, and 28,000 houses were destroyed which left 100,000 people homeless.
Drought (August 2000)
Dry weather started from March 2000, which resulted in drought in August. Due to the drought, 600,000 were affected and the total loss was US$50 million.
Disaster Management System
Legal System
In the Law of Republic of Uzbekistan named "About the conception of national safety" promulgate on 29 August 1997, it is referred to the importance of the maintenance of optimum ecological conditions for ability to any man to live, protection of health of the people, creation of a stable ecological situation.
Organization
The Ministry of Emergency Situations is the coordinating body. Each city has an appointed person who is a Mayor of the city responsible for disaster management. At community level - community leaders are responsible for disaster management.
Disaster Information (The latest 10)