TOP PAGE
> Information on Disaster Risk Reduction of the Member Countries
Information on Disaster Risk Reduction of the Member Countries
Pakistan
General Information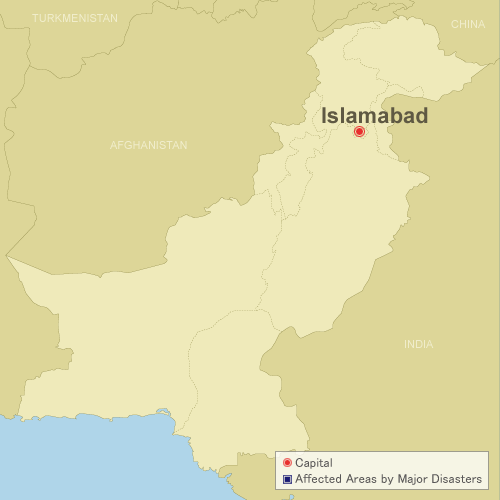 Formal Name: Islamic Republic of Pakistan
Pakistan shares borders with India, China, Afghanistan and Iran, which faces the Arabian Sea. 881,913 square kilometers land area. It has the Himalayas in the north and the Baluchistan Highlands in the west. The eastern half of the land has the Indus River. Because of the geographical condition of Pakistan, climate varies greatly by region.
The capital is Islamabad. Among 243.8 million population, about half accounts for the Punjab, others are occupied by the Sindh, the Patan and the Baluchs. Densely populated along the Indus River.
Overview of Disasters
Pakistan frequently suffers from earthquakes. Northern and Western part of Pakistan is particularly vulnerable to earthquakes. The Indus River is known as flood-prone area especially in July and August. It suffers from drought, cyclone, flash flood, landslide, avalanche and epidemics.
Recent Major Disasters
Earthquake (October 2005)
On 8 October 2005, an earthquake of M7.6 occurred. Due to the earthquake, 73,338 people were killed, 128,304 were injured and 500,000 were affected. This massive earthquake drove the Pakistani government for the development of disaster management.
Cyclone (May 1999)
A cyclone hit the southern part of Pakistan on 20 May 1999. 168 were killed, 597,482 were affected and 44,149 houses were destroyed in Thatta Province and Badin Province.
Super Flood 2022
Since mid-June 2022, Pakistan has been drenched by extreme monsoon rains that have led to the country's worst flooding in a decade. According to Pakistan's National Disaster Management Authority, the floods have affected more than 33 million people and destroyed or damaged more than 1 million houses. At least 1,100 people were killed by floodwaters that inundated tens of thousands of square kilometers of the country. Across the country, about 150 bridges and 3,500 kilometers (2,200 miles) of roads have been destroyed. More than 700,000 livestock and 2 million acres of crops and orchards have also been lost.
Disaster Management System
Legal System
The National Disaster Management Ordinance was promulgated in October 2007.
Organization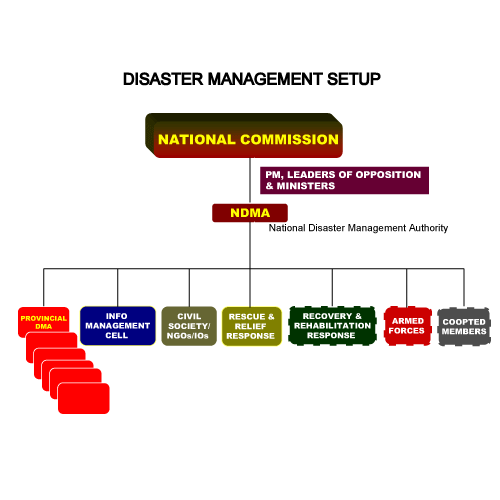 The National Disaster Management Commission (NDMC) chaired by the Prime Minister was established. The NDMC consists of a senior representative of each province, leaders of the opposition parties, representative of the army, representatives of civil society associations and NGOs. The
National Disaster Management Authority (NDMA)
, set up in March 2007, is the focal point for Coordinating and facilitating the implementation of strategies and programmes on disaster risk reduction, response and recovery.
Plan
The National Disaster Risk Reduction Framework was approved in March 2007.
The Disaster Management Plan for 2012-2022 was approved in 2012.
The Disaster Management Policy was approved & implemented since 2015.
The Climate Change Policy was revised and approved in 2022.
ADRC Counterpart