TOP PAGE
> Information on Disaster Risk Reduction of the Member Countries
Information on Disaster Risk Reduction of the Member Countries
New Zealand
General Information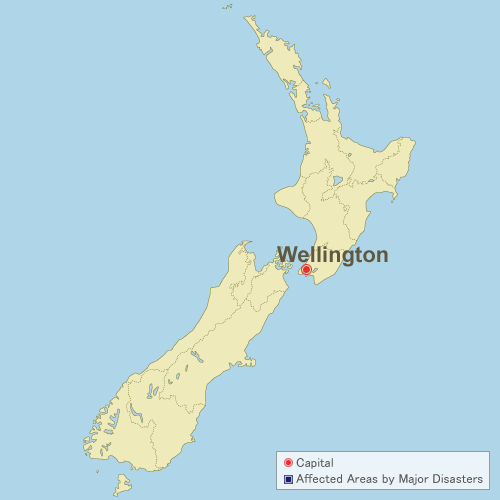 Formal Name: New Zealand
New Zealand is located in the western South Pacific Ocean, and south-east of Australia. It is comprised of North Island, South Island, and numerous smaller islands including Stewart Island. The most of the area with 270,534 square kilometers is occupied by mountains. The central part is volcanic area, which causes earthquakes. The coastline is indented with Fjord. The climate is mild and temperate at large, mainly a maritime climate.
The capital is Wellington. New Zealand has a population of about 4.23 million. It consists mostly of Anglo-Saxon descent, and has some Maori, and Asian descent people.
Overview of Disasters
Earthquakes, volcanic eruptions, floods and landslides are part of life in New Zealand.
Recent Major Disasters
Christchurch earthquake (February 2011)
A powerful 6.3-magnitude earthquake struck at 12:51 on 22 February 2011 (23:51 GMT on 21 February), caused widespread destruction in the city centre of Christchurch. It killed 185 people and injured several thousand.
Volcanic Debris Flow (December 1953)
In the evening of 24 December 1953, an ice and volcanic debris barrier built across the outlet of Crater Lake of Mt. Ruapehu collapsed into an ice cave above the Whangaehu River. A bridge were collapsed by the force of the debris-laden water and 6 of the passenger carriages of a train which just passed the bridge was taken into the raging torrent, claiming 151 lives.
Flood (February 2004)
There was exceptionally heavy rainfall over the lower North Island on 15-16 February 2004, resulting severe river flooding, causing widespread inundation of low-lying areas. 2 people were killed, 2,500 people were affected, and damage of US$200 million was claimed.
Disaster Management System
Legal System
Three core acts promoting risk reduction are the Resource Management Act (1991), the Civil Defence Emergency Management Act (2002) , and the Building Act (2004).
Other disaster management related laws and acts are including Soil Conservation and Rivers Control Act 1941, Earthquake Commission Act 1993, Local Government Act 2002, and Forest and Rural Fires Act 1977.
Organization
The central decision-making body of executive government that addresses emergency management is the Cabinet Committee for Domestic & External Security Coordination (DES). The DES committee is chaired by the Prime Minister, and includes those Ministers responsible for departments that play essential roles in such situations.
To support that process, an Officials\' Committee for Domestic and External Security Coordination (ODESC), consisting of the departmental chief executives, provides strategic policy advice to the DES ministers.
The National Crisis Management Centre (NCMC), Min of Civil Defence & Emergency Mgmnt (CDEM) supports the ODESC. NCMC facilitates the Central Government crisis management arrangements.
Plan
The National Civil Defence Emergency Management Plan was made in November 2005, and became operational in conjunction with the Guide to the National Civil Defence Emergency Management Plan in July 2006.
The National Civil Defence Emergency Management Strategy (March 2004) outlines national goals and objectives for hazards & risks and emergency management.
ADRC Counterpart
Disaster Information (The latest 10)