TOP PAGE
> Information on Disaster Risk Reduction of the Member Countries
Information on Disaster Risk Reduction of the Member Countries

General Information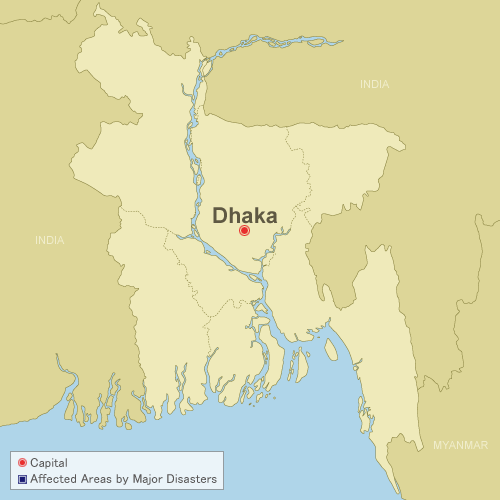 Formal name: People(apostrophe)s Republic of Bangladesh
Bangladesh is located in South Asia, bordered by between India and Myanmar, and faces the Bay of Bengal. Land area is 147,570 square kilometers. Bangladesh is a low-lying deltaic country in South Asia formed by the Ganges, the Brahmaputra and the Meghna rivers. More than 310 rivers and tributaries have made this country a land of rivers. Most of the country is covered with flat alluvial plain, yet there are hills in the southeast part. The country has the world's longest unbroken sandy beach of 120km, sloping gently down to the blue waters of the Bay of Bengal. Bangladesh has a tropical monsoon climate characterized by wide seasonal variations in rainfall, high temperatures, and high humidity. Three seasons are generally recognized: a hot, muggy summer from March to June; a hot, humid and rainy monsoon season from June to November; and a warm-hot, dry winter from December to February.
The capital is Dhaka. Out of 157,220,520 people, 98 percent are the Bengali, among them 90.4% Muslim, 8.2 percent Hindu, 0.7 percent Buddhist and 0.6 percent Christians.
Overview of Disasters
Bangladesh has a long history of natural disasters. Between 1980 and 2008, it experienced 219 natural disasters. The geographical location, land characteristics, multiplicity of rivers and the monsoon climate render Bangladesh highly vulnerable to natural hazards. The coastal morphology of Bangladesh influences the impact of natural hazards on the area. Bangladesh suffers from floods, cyclones, storm surge, river bank erosion, earthquake, drought, salinity intrusion, fire and tsunami. Cyclones and floods particularly caused massive damages. Cyclones occurred in 1970, 1991, 2007 and 2009 and killed 364,000, 136,000, 3,363 and 190 respectively.
Recent Major Disasters
Cyclone Aila (May 2009)
Cyclone Aila hit the Bangladesh on Monday 25 May 2009 and has produced substantial damage across areas of southern Bangladesh. It caused 190 people dead and 3,935,341 people affected. The total damage was USD270 million.
Cyclone Sidr (November 2007)
Cyclone Sidr hit the coastal areas on 15 November 2007. It affected 8,978,541 people and killed 4,234. The economic damage caused by the cyclone is USD2.3 billion.
Cyclone (April 1991)
A cyclone occurred in April 1991 in Chittagong killed 138,866 people and affected 15,438849 people. The total damage was UD$1.78 billion.
Disaster Management System
Legal System
Organization
Plan
National Plan for Disaster Management (NPDM) 2021-25 is the revised version of NPDM 2015-2020 prepared by the Ministry of Disaster Management and Relief (MoDMR), based on wider consultations with the relevant ministries, departments, donors, academic institutions, NGOs, research organizations, private sector and development partners. NPDM 2021-25 is based on the four key principles of disaster risk management, namely preparedness, early warning and alert, emergency response, and rehabilitation, reconstruction and recovery adopted from Sendai Framework for Disaster Risk Reduction (SFDRR) and Standing Order on Disaster (SOD). This plan provides context, legal background, implementation status of previous plans and likely situation of Bangladesh in the changing disaster risk context.
ADRC Counterpart
Disaster Information (The latest 10)