TOP PAGE
> Information on Disaster Risk Reduction of the Member Countries
Information on Disaster Risk Reduction of the Member Countries
Korea (the Republic of)
General Information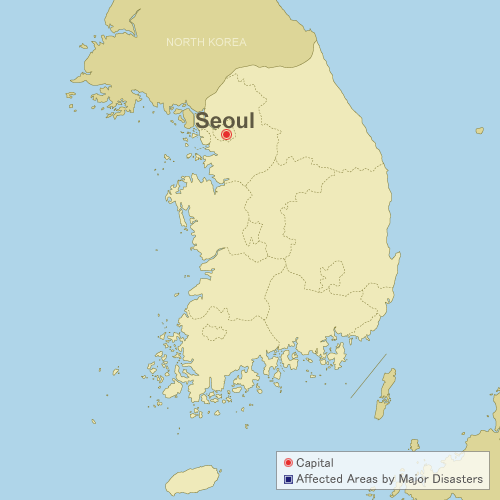 Formal Name: Republic of Korea
South Korea is located in the southern Korean Peninsula. It is surrounded by the Yellow Sea in the west and the Sea of Japan in the east. Approximately 70 percent of 99,274 square kilometers of land is mountainous. Western and southern parts are covered with plains, whereas mountainous in the north and east. The coast is surrounded by about 3,400 islands. Cool temperate climate zone: hot and rainy in summer, cold and dry in winter.
The capital is Seoul. 48.46 million population is mostly occupied by the Korean.
Overview of Disasters
Typhoon sometimes triggers torrential rains and subsequent floods. Heavy snowfall, landslides, storms, drought, sandstorms are the major disasters.
Recent Major Disasters
Typhoon Rusa (August-September 2002)
Due to the typhoon Rusa, 184 were killed (including the missing), 88,626 were affected and 17,046 houses suffered from inundation from 31 August to 1 September 2002.
Typhoon Maemi (September 2003)
Typhoon Maemi battered southern areas of South Korea with record winds overnight, killing 130 people, affecting 10,975 people, and 421,015 houses were inundated on 12-13 September 2003.
The typhoon Ewiniar & Bilis (July 2006)
The typhoon Ewiniar and the typhoon Bilis brought the Korean Peninsula with floods and landslides killed 62 people and affected 2,702 people in South Korea on 9-11 July 2006.
Disaster Management System
Legal System
The Act on Disaster Risk Management and Reduction enacted in 2008 stipulates the basics of the disaster management policies of Korea. There are other DM related laws including the Disaster and Safety Management Basic Act enacted in 2004, the Natural Disaster Countermeasures Act enacted in 1995, the Water and Wind related Disaster Insurance Act, the Act on Disaster Risk Management and Reduction of Reservoir and Dam enacted in 2008, the Special Law on Reduction of Disaster Risk and Emigration Measure in 2007.

Organization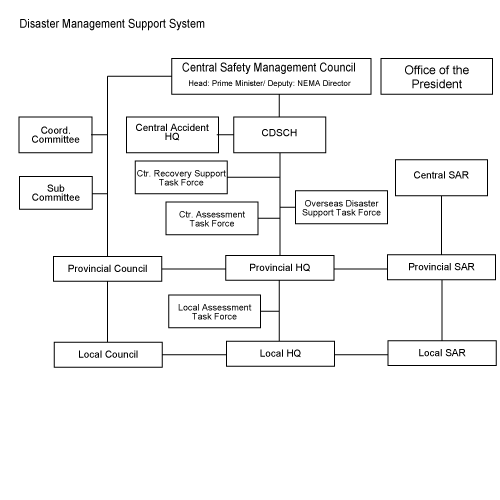 The
National Emergency Management Agency (NEMA)
established under the umbrella of the Ministry of Public Administration and Security (MOPAS) is comprehensively in charge of disaster management policies in Korea.
Once a disaster takes place, a special task force called the CDSCH is formed. The CDSCH is in charge of natural disaster prevention, situation management and relief planning, in addition to take necessary measures in times of disaster.
The
National Disaster Management Institute
was established in 2006, which provides disaster management trainings and drills for the citizens and civil servants.
The
National Institute for Disaster Prevention (NIDP)
was formed in 1997 in order to develop the disaster management technology and the national policies.
Plan
National Safety Management Basic Plan covering 2005-2009 stipulates mid-to-long term policies on security systems in Korea.
ADRC Counterpart