TOP PAGE
> Information on Disaster Risk Reduction of the Member Countries
Information on Disaster Risk Reduction of the Member Countries
Kazakhstan
General Information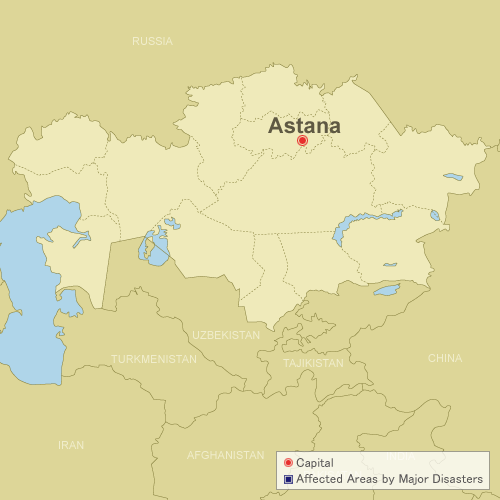 Formal Name: Republic of Kazakhstan
Kazakhstan is a country located in the in the Central Eurasia. One of the five Central Asian countries, with the land area of 2.7 million square kilometers. It borders China in the east, Kyrgyzstan Turkmenistan and Uzbekistan in the south. The Tianshan Mountain is in the south, the Altai Mountains in the east. The Caspian Sea in the west is the largest lake in the world. Around the lake is desert, plains, and hills.
The capital is Astana. 15.5 million population, out of which 58.9 percent are the Kazakh, 25.9 percent the Russian. Others include Ukraine, Uzbek, Uighur, Tatar, German and Korean.
Overview of Disasters
Storm, landslide & slope collapse, floods, epidemics, extreme temperatures, earthquakes, and forest fires are the major disasters in Kazakhstan.
Recent Major Disasters
Flood (February 2008)
On 21-22 February 2008, South Kazakhstan were flooded as a result of heavy rains and a sudden increase in air temperature, which led to rapid melting of snow. In total 2,383 houses were inundated; 298 houses were destroyed, one person died and more than 13,000 people (approximately 1,800 families) were displaced.
Earthquake (May 2003)
An earthquake measuring 6.5-7 on the Richter scale hit the Zhambyl Province on May 23, 2003. 36,626 people were affected, and houses and social infrastructure were heavily collapsed.
Flood (May 1993)
Kazakhstan has suffered severe damages from floods as a result of melting snow caused by the sharp rise in temperature and simultaneous heavy rains during May 1993. The flood caused much damage to local infrastructure, ten lives were lost and some 30,000 people were left homeless. 5,500 houses were damaged.
Disaster Management System
Legal System
President's Decree "On measures aimed to prevent disasters in the territory of the Republic"dated March 19, 2004 No. 451 provides the long-term direction for national disaster management.
Government Program of the Republic of Kazakhstan for the mid-term perspective 2010-2012 includes the disaster reduction as one of important targets.
Organization
The Ministry for Emergency Situations is the prime organization at the central government, which carries out response activities for large emergencies and disasters. It controls industrial technical safety, coordinates measures on the prevention, supervises national fire service, and serves as the coordinating body for civil defense in Kazakhstan.
Plan
The Comprehensive Kazakhstan Natural Disaster Preparedness Plan serves as a guide for central and local governments in the country in implementing measures on disaster reduction.
ADRC Counterpart
Disaster Information (The latest 10)