TOP PAGE
> Information on Disaster Risk Reduction of the Member Countries
Information on Disaster Risk Reduction of the Member Countries
Japan
General Information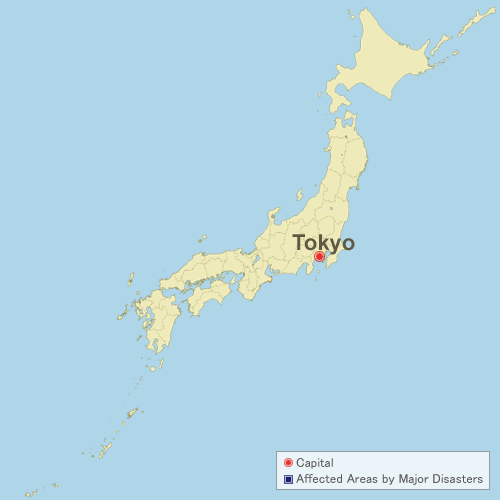 Formal Name: Japan
Japan is an island country located in the western Pacific Ocean. Total land area is about 378,000 square kilometers. More than 70 percent of land surface is mountainous. As it is situated along the circum-Pacific volcanic belt, Japan has several volcanic regions and frequently affected by earthquakes and Tsunami. A major feature of Japan's climate is the clear-cut temperature changes between the four seasons. In spite of its rather small area, the climate differs in regions from a subarctic climate to a subtropical climate. The side of the country which faces the Sea of Japan has a climate with much snow in winter by seasonal winds from the Siberia. Most of the areas have damp rainy season from May to July by the seasonal winds from the Pacific Ocean. From July to September, Japan frequently suffers from Typhoon.
The capital is Tokyo. Total population is about 127.77 million.
Overview of Disasters
Japan is affected by Typhoon mostly every year and Volcanic disasters triggered by eruption and volcanic earthquake. Japan is earthquake prone area due to the geological formation with plate boundaries of the Pacific plate, the Philippine Sea plate, the Eurasian plate, and the North American plate.
Recent Major Disasters
Great Hanshin-Awaji Earthquake (January 1995)
On 17 January 1995, an earthquake with a 7.3 on the Richter scale occurred at Awaji island of Hyogo Prefecture in Western Japan. It killed 6,434 people, injured 43,792 people, destroyed 104,906 houses, half destroyed 144,274 houses, and partially destroyed 390,506 houses. By the fires broke out along with the earthquake, the area of 835,858 square meters was burnt down.
Mid Niigata Prefecture Earthquake (October 2004)
On 23 October 2004, the Mid Niigata Prefecture was affected by an earthquake with a 6.8 on the Richter scale. Landslides and destruction of buildings and houses caused 68 dead, and 4,805 injured. 3,175 houses were totally destroyed, 13,810 houses were half destroyed, and 105,573 houses were partially destroyed.
The Great East Japan Earthquake
A magnitude 9.0 earthquake hit the northeastern Japan on 11 March 2011, recording the largest earthquake hit in Japan. Its epicenter was located in the coast of Sanriku and its epicentral area stretched from the coasts of Iwate Prefecture to Ibaraki Prefecture. Massive shakes were observed particularly in eastern Japan including Japanese intensity scale of 7 registered in the north of Miyagi Prefecture. Furthermore, this earthquake, a trench-type earthquake occurred near the boundary of the Pacific Plate and the plate beneath Tohoku area, triggered seafloor movements and generated massive tsunami. According to the National Police Agency, this earthquake and tsunami have left unprecedented human suffering: 15,870 people death, 2,814 people missing and 6,114 people injured, as well as property damage: 129,472 totally collapsed buildings, 255,977 half collapsed buildings and 702,928 partially collapsed buildings. Furthermore, the value of the destruction of the social infrastructure, housing, and corporate facilities was estimated at 16.9 trillion yen and it had a great impact on Japanese economy.
Disaster Management System
Legal System
In order to applying to all of the disaster phases of prevention, mitigation and preparedness, emergency response as well as recovery and rehabilitation, relevant laws and regulations were enacted. They include
DisasterCountermeasuresBasicAct (1961)
, Erosion Control Act (1897), Disaster Relief Act (1947), Building Standard Law (1950), Landslide Prevention Act (1958), River Act (1964), and Act on Special Measures for Large-scale Earthquakes (1978). Detailed information is referred in the brochure
DISASTER MANAGEMENT IN JAPAN (pp.4-6)
(pdf 31.1MB).
Organization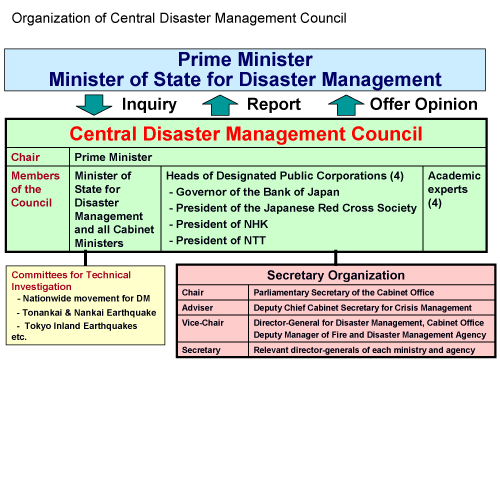 Under the Disaster Countermeasures Basic Act, the Central Disaster Management Council was formed, its brief being to ensure the comprehensiveness of disaster risk management and to discuss matters of importance with regard to disaster management. The council consists of the Prime Minister, who is the chairperson, Minister of State for Disaster Management, all ministers, heads of major public institutions and experts.
Within the Cabinet Office, which is the secretariat for this Council, the Minister of State for Disaster Management has been assigned as the Minister State for Special Missions for this issue. This Minister is assisted by the department of the Cabinet Office Director-General for Disaster Management his mandate being to handle planning and central coordination with regard to matters relating to basic policy on disaster risk reduction, and matters concerning disaster countermeasures in the event of a large-scale disaster.
In prefectures and local municipalities, the prefectural and municipal Disaster Management Councils are established with the members of representatives of local government organizations including police and fire management department, and designated local public corporations. Implementation of disaster risk management measures is based on the Local Disaster Management Plans drafted by the Councils.
Plan
Basic Disaster Management Plan is the master plan and a basis for disaster reduction activities in Japan. Disaster Management Operation Plan is a plan made by each designated government organization and designated public corporation, and Local Disaster Management Plan is a plan made by each prefectural and municipal disaster management council, based on the Basic Disaster Management Plan.
Basic Disaster Management Plan is prepared by the Central Disaster Management Council in accordance with Article 34 of the Disaster Countermeasures Basic Act. The plan clarifies the duties assigned to the Government, public corporations and the local government in implementing measures. For easy reference to countermeasures, the plan also describes the sequence of disaster countermeasures such as preparation, emergency response, recovery and reconstruction according to the type of disaster.
ADRC Counterpart