TOP PAGE
> Information on Disaster Risk Reduction of the Member Countries
Information on Disaster Risk Reduction of the Member Countries
Sri Lanka
General Information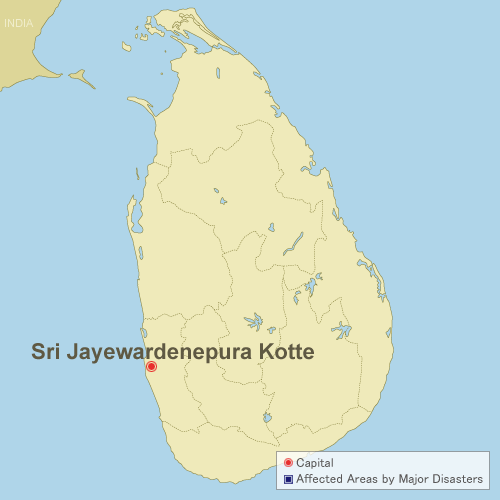 Formal Name: Democratic Socialist Republic of Sri Lanka
Democratic Socialist Republic of Sri Lanka is located on the island of Ceylon, southeast of India. Land area is 65,607 square kilometers. Plain spreads in northern half of the country, whereas mountainous in the south with the Mt. Pidurutalagala which is surrounded by the coastal plain. Tropical climate: mostly hot and humid, yet cool and cold in the highlands. In most areas, the rainy season comes between May and October. Dry in the Northeast and the north, except for December. Sri Lanka is basically strongly influenced by monsoon.
The capital is Sri Jayawardenapura-Kotte. Out of the population of 20 million, 72.9 percent are the Sinhala, 18 percent being Tamil, 8 percent being Sri Lankan Moors.
Overview of Disasters
Major disasters are floods, landslides, cyclones, drought, lightning, coastal erosion and Tsunami.
Disaster Management System
Legal System
The Sri Lankan Government enacted the Disaster Management Act No.13 of 2005 in 2005. The act declares the DM policy's emphasis shift from emergency response to disaster preparedness.
Organization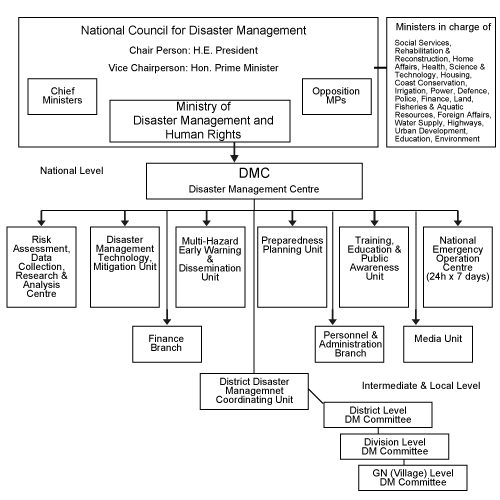 Based on the Disaster Management Act the National Council for Disaster Management (NCDM), the supreme council for the disaster management and its policy implementing apparatus called the
Disaster Management Centre (DMC)
were established. In November 2007, the National Disaster Management Coordination Committee (NDMCC) chaired by the deputy minister of the Ministry of Disaster Management was established.
Plan
"Toward a Safer Sri Lanka, Road Map for Disaster Risk Management" was announced in December 2005. The National Disaster Management Plan, which includes disaster situation in Sri Lanka, disaster management organizations and their roles, DM priorities, and strategy, completed drafting and are currently under Diet deliberation.
Disaster Preparedness and Response Plan for district, division and GN levels are under the process of formulation.
ADRC Counterpart