Applications of DRR Tools:Sharing Asian Experiences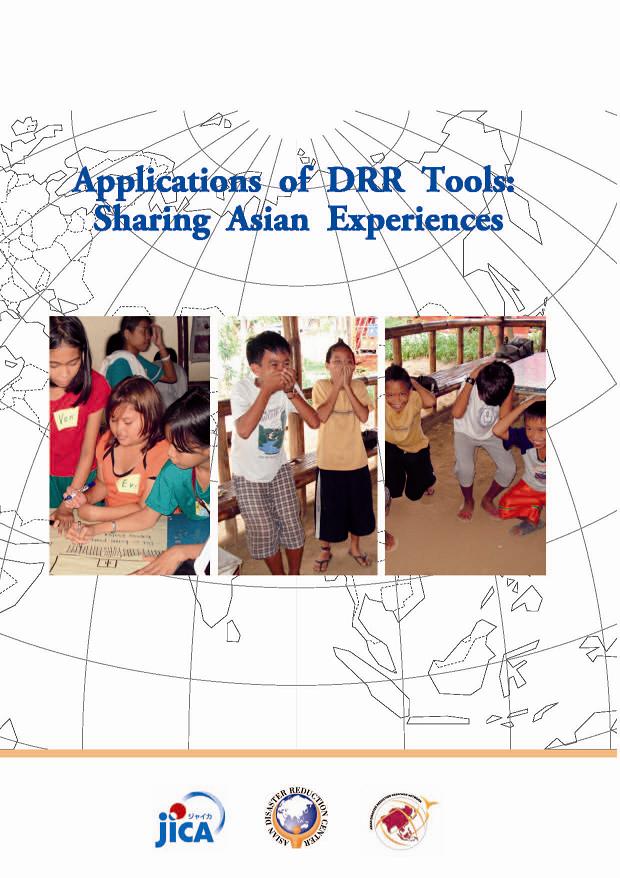 Asia faces great losses of precious lives and valuable property due to natural disasters every year. Disasters have been increasing both in their severity and frequency due to climate change and environmental degradation, ever increasing population and uncontrolled settlements and many other underlying factors. As revealed by such devastating events as the Indian Ocean Tsunami of December 2004, the impacts of natural disasters often go far beyond the capacity of a government to handle them.
Recently, the role of NGOs has been growing in Asia and elsewhere to complement governmental efforts in disaster preparedness, response and recovery. In view of the increasing significance of NGOs in disaster risk reduction activities, the Asian Disaster Reduction Center (ADRC), in cooperation with the Japan International Cooperation Agency (JICA), conducted a capacity development project entitled "NGO Training for Disaster Risk Reduction in Asia" from 2007 to 2009. This project was aimed at strengthening the capacities of the members of the Asian Disaster Reduction and Response Network (ADRRN), an NGO network in Asia.
In the last year of this project, the participants decided to compile a booklet of practical information entitled "Applications of DRR Tools: Sharing Asian Experiences" to share knowledge accumulated through the project with a wider audience.
I congratulate the ADRRN members on their successful completion of the project. I sincerely hope that this publication will be used widely among policymakers and practitioners, and will contribute to creating safer communities all over the world.
Atsushi Koresawa
Executive Director
Asian Disaster Reduction Center (ADRC)
・FOREWORD (pdf)
・PREFACE (pdf)
・ACKNOWLEDGEMENTS (pdf)
・CONTENTS (pdf)
・BACKGROUND (pdf)
・BRIEF INTRODUCTION OF ORGANISATIONS (pdf)
・APPLICATION OF TOOLS: SHARING OF EXPERIENCES
・KNOWLEDGE TRANSFER GROUP (pdf)
・EMERGENCY TOOLKIT (pdf)
・POPULAR THEATRE (pdf)
・FOSTERING AWARENESS OF RISKS FOR A SAFER AND SUSTAINABLE ENVIRONMENT (pdf)
・TEACHING THE CHILDREN WITH BASIC PREPAREDNESS ACTIONS (pdf)
・CARDIO PULMONARY RESUSCITATION (CPR)
・NAMAZU SCHOOL [PLUS ARTS]
・SCHOOL WATCHING WORKSHOP (pdf)
・COASTAL COMMUNITY RESILIENCE (CCR) (pdf)
・COMMUNITY RADIO (pdf)
・CITIZENS' RESOURCE CENTER (pdf)
・GIS TECHNIQUES FOR HAZARD PROFILING (pdf)
・EARTHQUAKE IMAGINATION GAME (EIG) (pdf)