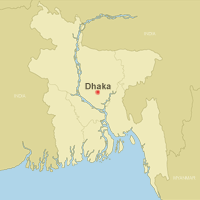 General Information
Formal name: People's Republic of Bangladesh
Bangladesh is located between India and Myanmar, and faces the Bay of Bengal. Land area is 140,004 square kilometers. The Ganges River runs the west part of the country. Most of the country is covered with flat alluvial plain, yet there are hills in the southeast part. Tropical climate: warm in winter (October to March), hot and humid in summer (March to June), and rainy season comes between June and October.
The capital is Dhaka. Out of 140,490,000 people, 98 percent are the Bengali, 89.7% Muslim, 9.2 percent Hindu, 0.7 percent Buddhist, 0.3 percent Christians.
Overview of Disasters
Bangladesh suffers from floods, cyclones, storm surge, river bank erosion, earthquake, drought, salinity intrusion, fire and tsunami. Cyclones and floods particularly caused massive damages. Cyclones occurred in 1970 and 1991 killed 364,000 and 136,000 respectively.
Recent Major Disasters
Cyclone Sidr hit the costal areas on 15 November 2007. It affected 87,000 people, killed 3,363 and injured 55,282.
Cycone (April 1991)
A cyclone occurred in April 1991 in Chittagong killed 138,000 people. The total damage was $ 1.5 billion.
Cyclone (November 1970)
Due to the cyclone and subsequent flood that occurred in November 1970, about 300,000 people were killed. The total damage was US$24 billion.
Disaster Management System
Legal System
Draft Disaster Management Act, 2008 (under consideration)
Disaster Management Act, 2008 (draft)
National Disaster Management Policy (draft)
Organization

National Disaster Management Council (NDMC) headed by the Prime Minister is in charge of formulation of the disaster management policies. Ministry of Food and Disaster Management chairs the Inter-Ministerial Disaster Management Co-ordination Committee (IMDMCC). The National Disaster Management Advisory Committee (NDMAC) consists of disaster management experts, and the Cyclone Preparedness Program Implementation Board (CPPIB) reviews the preparedness activities in times of cyclone.
The Comprehensive Disaster Management Programme(CDMP) is established for strategic implementation of disaster management activities of relevant organizations.
Plan
The MoFDM Corporate Plan: Framework for Action 2005-2009 was formulated based on the Disaster Management Act in March 2005 (Source: country report 2006). Also, the National Disaster Management Plan 2008-2015 was created in May 2008.
National Disaster Management Plan 2008-2015 (draft)
ADRC Counterpart
Ministry of Disaster Management and Relief