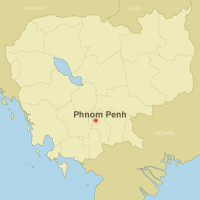 General Information
Formal Name: Kingdom of Cambodia
Kingdom of Cambodia is located in the center of Indochina and is bordering with Vietnam, Thailand, and the Lao, PDR. Land area is 180,000sq km. The Lake Tonle Sap located in the midwest of the country is one of the largest lakes in the world. The Mekong River runs in the east. It has the Angkor Wat temples, a World Heritage, in the north. Major industry is agriculture, especially focused on rice production. Tropical monsoon climate. Rainy season comes between May and November. Between December and April, dry season. Little seasonal temperature variation.
The capital is Phnom Penh. Cambodian (Khmer) occupies 90 percent of the 13.4million population. Others include an ethnic minority Cham, Vietnamese and Chinese.
Overview of Disasters
Alongside the Mekong River and the Tonle Sap Lake, there are frequent floods, whilst east, west and northwest are the drought-prone area.
Recent Major Disasters
Flood (August 2000)
A massive flooding in August 2000 heavily damaged the northern, eastern and southern regions, especially in Takeo Province. Three provinces along Mekong River (Stung Treng, Kratie and Kompong Cham) and Municipality of Phnom Penh have declared the state of emergency. 121,000 families have been affected, more than 170 people were killed, and some $10 million in rice crops has been destroyed.
Flood (August 2001)
With the flood that occurred in August 2001, 12 states were affected, 56 died, and about 1.7 million people were affected. Approximately 410,000 people had to evacuate in the shelter.
Drought (2002)
After a dry climate that lasted since January 2002, 8 provinces suffered from the worst drought in the last 20 years. More than 2 million people were affected, and caused serious food shortages.
Disaster Management System
Legal System
Cambodia has neither national policy nor law on disaster management. Based on the sub-decree No. 35 ANK the National Committee for Disaster Management has been established. The proposed policy had undergone three revisions since it was first discussed in 1997, but is yet to be approved by the Council of Ministers and signed as an official document by the Prime Minister. The ability of the Government Ministries, provincial and district leadership to provide effective civil services, particularly in relation to disaster management activities is constrained due to inadequate understanding of specific roles and responsibilities, lack of clarity in "lines of communications" and criteria for decision making, planning, and implementing.
Organization

National Committee for Disaster Management (NCDM) is established for overall coordination for disaster management.
Plan
The Secretariats at the national, provincial, and municipal levels must cooperate closely with the Cambodian Red Cross (CRC) at all levels of planning and in emergency management. In times of emergency, NCDM General Secretariat shall collaborate with the provincial/municipal CDM and CRC to draw specific operational plans, according to existing guidelines.
The National Strategic Action Plan SNAP is under the finalization process and will be launched soon.
ADRC Counterpart
National Committee for Disaster Management (NCDM)