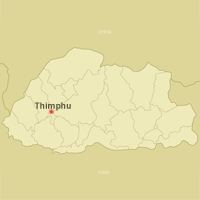 General Information
Formal Name: Kingdom of Bhutan
Kingdom of Bhutan borders with China and India. Land area is approximately 46,500 square kilometers. Most of the terrain is situated in the eastern Himalayas, and the northern part lies in the high mountains. The climate is alpine to tundra near the Himalayas, monsoon climate in the central region, and subtropical climate in the southern Duars Plain.
Thimphu is the capital. Of the 660,000 people, the Tibetan occupies 80 percent, and the other 20 percent being the Nepalese.
Overview of Disasters
Bhutan has been fortunate not to have experienced major disasters resulting in enormous loss of lives and property. However, in view of the geo-physical location of the country, it is one of the most seismically active regions in the world. Bhutan also faces potential threats from glacial lake outburst flow. Climate change causes the receding of the glacial lake between 30 and 40 meters every year. Glacial lakes burst risks increases if global warming increases.
Recent Major Disasters
Flash flood and debris flow (October 1994)
The glacial lake Lugge (located in the northwest of Bhutan) burst on 7 October 1994 caused debris flow and flash floods. 22 people were killed and 600 people were affected.
Flood and landslide (August 2000)
Torrential rains that started on 31 July 2000 caused flooding and landslides near the border with India, which killed 200 people, affected 1,000 people.
Disaster Management System
Legal System
As of 2008, the Ministry of Home and Cultural affairs is in the process of drafting the National disaster Management Act.
Organization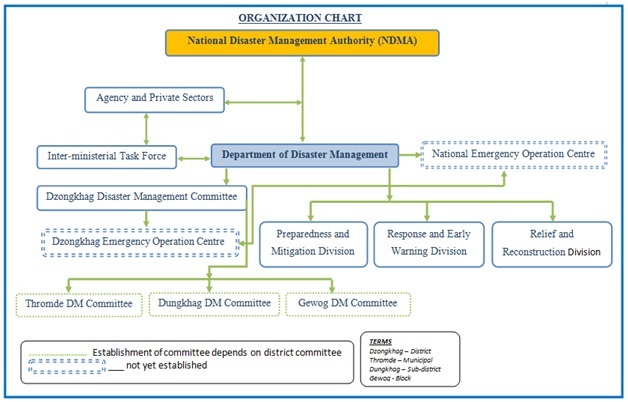 Official Organization for Disaster Management is Disaster Management Division, Ministry of Home and Cultural Affairs.
Plan
The Ministry of Home and Cultural affairs is drafting the National Disaster Management Plan and the Guidelines for Disaster Management Planning as of 2008.
ADRC Counterpart
Ministry of Home and Cultural Affairs
Disaster Information (The latest 10)