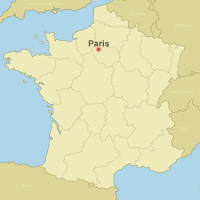 General Information
Formal Name: French Republic
France is located in South-Western Europe, and bordered by Belgium and Luxembourg to the North-East, Germany and Switzerland to the East, Italy and Monaco to the South, and Andorra and Spain to the South-West. The area of France is 547,030 square kilometers, with large tracts of flat land, except the natural borders of hills and mountains from the East to the South. A continental climate prevails in the Eastern inland areas, a Mediterranean climate in the South, and a maritime climate in the Atlantic coastal areas.
The capital is Paris. The population is 65.82 million (as of 1 January 2014)
Overview of Disasters
Floods, landslides and storms often occur in France. In summer times, heat waves, forest fires and drought are getting to occur more and more frequently. South-Eastern France also experiences earthquakes and volcano activities.
Recent Major Disasters
Storm (February 2010)
Strong winds combined with heavy rain and high tide caused the failure of several dykes in South-Western France, claiming 53 lives and causing approximately US$ 4,230,000 damages.
Heat Wave (August 2003)
Seven days with temperatures of more than 40 degrees centigrade between July and August 2003 claimed 19,490 lives and caused approximately US$ 4.4 billion damages.
Storm Lothar (December 1999)
Two storms crossed France on 26 December 1999, killed 92 people and affected 34 million people. It caused about US$ 8 billion damages in France.
Disaster Management System
Legal System
By learning from the natural catastrophes and in order to face all of the disaster phases of prevention, mitigation and preparedness, emergency response as well as recovery and rehabilitation, relevant laws and regulations have been enacted. They include mostly the Law for the Reinforcement of the Protection of the Environment (1995), and the Law for the Prevention of Natural and Technological Risks and their Recovery (2003).
Organization
The French Platform for Risk Prevention is offering a framework where public, private and associative organizations dealing with disaster reduction can join and communicate on topics like economic and cultural issues, human well-being and so on. It is under the control of the Advisory Committee for Major Natural Hazards (COPRNM: le Conseil d\'Orientation pour la Prevention des Risques Naturels Majeurs), which is under the authority of the Ministry of Ecology and Sustainable Development. This Ministry is in charge of prevention while the Minister of the Interior deals with the urgent assistance and rescue team organization.
In parallel, the French Association for Prevention of Catastrophic Natures (AFPCN: l\'Association Francaise pour la Prevention des Catastrophes Naturelles), works as an Advisory Board and think tank for prevention of major natural hazards. It acts independently from any state influence.
Plan
The main tool for local authorities is the Risk Prevention Plan which should help to take into account the natural risks for development and urban planning by regulating the use of lands depending of these risks. It was created by the law for the Reinforcement of the Protection of the Environment (1995) and aims to prevent natural disasters such as 'floods, landslides, avalanches, forest fires, earthquakes, erupting of a volcano, storms and cyclones' (as written in the law). Plans are established by the municipalities and approved by the prefecture so that it becomes obligatory for all construction or settlement project.
It is still a work in progress as every city is not concerned by all these risks, but most of the municipalities have engaged work on floods prevention. So that a new plan named Rapid Submersion Plan to manage the situation of rapid floods, was created in 2011; one year after the storm that broke dykes and claimed 53 lives. It is a first step through the first National Strategy of Floods Management which is still under work by the authorities.
ADRC Counterpart
Ministry of Ecology and Sustainable Development
Disaster Information (The latest 10)