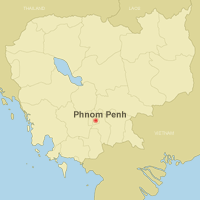 General Information
Formal Name: Kingdom of Cambodia
Cambodia is geographically situated in Southeast Asian region and bordered with Vietnam to the east, Thailand to the west, and Lao PDR to the north and Gulf of Thailand to the south. Cambodia has the land area of 181,035 square kilometers. 500 kilometers of Mekong River bisects Cambodia, and roughly 80% of Cambodia's land is in lower Mekong basin, which their livelihood depend largely on agricultural production. Tonle Sap Lake, one of the world largest lakes, is situated in the mid-west of the country.
Cambodia has the population of 15 million (UN, 2010), comprised of Khmer 90% and other 10 % including Cham, Chinese and Vietnamese and indigenous and mountainous tribes. Administratively, the country is divided into 24 provinces and one capital city, Phnom Penh, the political, socio-economic and cultural center of Cambodia.
The climate is tropically humid and dominated by monsoon with two seasons: rainy season from May to October and dry season from November to April.
Overview of Disasters
Flood occurs alongside Mekong River and Tonle Sap Lake, whilst east, west and northwest parts of the country are the drought-prone areas. The magnitude and severity of flood and drought have increased from year to year. The disasters have caused great loss in economy and human lives, affected people's livelihoods and agricultural production and damaged social infrastructures. Over the decades, Cambodia has been affected by more recurrent floods and prevalent agricultural droughts. In the recent years, Cambodia has experienced more severe storms and more recurrent lightning strikes.
(See also Cambodia Disaster Loss and Damage Analysis Report (1996-2013)

Recent Major Disasters
Flood (September-October 2011)
In 2011, flood affected 350,000 households (over 1.5 million people) and 52,000 households were evacuated. 18 out of 24 provinces in Cambodia were affected; 4 provinces along Mekong River and Tonle Sap were worst hit; 250 people died and 23 people were injured as result of the flood. 431,000 hectares of transplanted rice fields were affected and 267,000 hectares of rice fields were damaged. 925 kilometers of the national, provincial and urban roads were affected and 360 kilometers of the roads were damaged. The floods in 2011 caused an estimated loss at 630 million USD.
Drought (2011-12)
In 2011, drought affected 3,804 hectares of rice fields. Furthermore, in 2012, drought affected 14,190 hectare of rice fields and completely destroyed crops of 3,151 hectares.
Typhoon Ketsana (September 2009)
On 29 September 2009, Cambodia was hit by Typhoon Ketsana. 14 out of 24 provinces were hit by the typhoon, and it affected 180,000 households, killed 43 people and injured 67 people. (See also Cambodia Post Disaster Needs Assessment, published on January 2010.)
Disaster Management System
Legal System
Law on Disaster Management was drafted and will be submitted to the National Assembly for enactment by 2014.
Disaster management mechanism structure has been established from the national level down to the commune and village levels in conformity with Sub-decree No. 30 ANKR.BK, dated 9 April 2002 on the Organization and Functioning of the National and Sub-National Committees for Disaster Management; Sub-decree No. 61 ANKR.BK, dated 29 June 2006 on the establishment of the Commune Committee for Disaster Management (CCDM); Direction No. 315 NCDM, dated 21 July 2010 on the establishment of the Village Disaster Management Team (VDMT) for the implementation of CBDRM.
Organization

National Committee for Disaster Management (NCDM) is established for overall coordination for disaster management. Cambodia has set up necessary legal, policy and institutional foundations for disaster management. Headed by the Prime Minister, NCDM was set up in 1995 that consists of 22 members from different Ministries, Cambodian Armed Forces, and Civil Aviation Authority as well as representatives of Cambodian Red Cross. The NCDM Secretariat, which is the locus of disaster management for the country, was set up to lead and coordinate disaster management affairs and to provide support to NCDM. As part of the decentralization process, disaster management institutions such as Provincial Committee for Disaster Management (PCDM), District Committee for Disaster Management (DCDM) and Commune Committee for Disaster Management (CCDM) have been set up to lead disaster management at their respective levels. Village Disaster Management Group (VDMG) is in place as the lowest level body for disaster management.
Plan
- National Strategy Development Plan (NSDP) 2009-2013
- Strategic National Action Plan for Disaster Risk Reduction (SNAP) 2008-2013
- National Action Plan for Disaster Risk Reduction 2014-2018 (drafted & adopted by 2014)
- National Comprehensive Avian and Human Influenza Plan (Multi-Sectoral Pandemic Preparedness and Response Plan)
- Community Based Disaster Risk Management Plan (CBDRM)
- National Contingency Plan for Flood and Drought (being revised)
ADRC Counterpart
National Committee for Disaster Management (NCDM)