5 Gathering of Information on Emergency Relief during Times of Disaster
5-1 Latest Disaster Information
ADRC's efforts in gathering and providing the latest information on disasters are a course of activities that gather and provide information on the status of ongoing disasters and required emergency relief, in order to provide a basis for decision making for affected countries and concerned organizations making emergency responses, or for related countries, organizations, NGOs, and individuals in doing emergency relief. It is important to gather information on disasters which have occurred in member countries and promptly make it available, as much as it is important for member countries to gather information on ongoing disasters. For this reason, we collect information not only on the member countries but also other countries.
5-1-1 Gathering Method and Gathered Information
Latest disaster information is by nature frequently updated and is valid for a very short period of time. This requires the frequent updating of information when a disaster occurs. In order to cope with this requirement, the ADRC database adopts a system which updates information via the network, and a team of center staff and ten part-timers monitor the latest disaster information around the clock, as described in 2-2. This task can be performed from anywhere via the Internet. As described in 2-2, information on the Taiwan earthquake was first posted in four hours after the disaster occurred, despite that the earthquake occurred at midnight.
In FY1999, information on 72 disasters was gathered. It included 31 floods (including landslides caused by floods), 15 earthquakes, six cyclones, typhoons, four droughts, four tornadoes, three forest fires, two volcanic eruptions, two floods caused by torrential downpours and heavy rain, and one incident of heavy snow, snowstorm, landslide, tsunami, and heat wave, respectively. By region, four occurred in the NIS countries, four in Europe, one in Oceania, and one in the Middle East. Of the 72 disasters, 27 had occurred in the ADRC member countries.
5-1-2 Obtaining the First Reports
Information on disasters is gathered by ADRC staff and part-timers on duty, as mentioned earlier. Crucial to this task is attaining the first reports of the disaster as early as possible, which in turn triggers the gathering of information. In fiscal 1999, first reports of disasters obtained at the ADRC were mainly information released by the press to the public. This raised concern for the risk of delay in acquiring first reports, depending on the interest of the press in the disaster, which varies according to the region and type of disaster which has occurred. On February 7, 2000, the Asian Disaster Reduction Unit of the United Nations Office for the Coordination of Humanitarian Affairs (OCHA) was set up at the ADRC, for the purpose of the two bodies sharing information to reduce disasters in the Asian region. This collaboration has enabled the ADRC to obtain information that the OCHA accurately and promptly collects, through the disaster management regional advisors deployed at the Asian Disaster Reduction Unit. This has, as a result, led to a sharp improvement in ensuring the acquisition of first reports. The ADRC is going to continue efforts in attaining information sources as well as work on the establishment of systems to enable the automatic gathering of information in the Center.



5-2 Collection and Analysis of Post Disaster Information
5-2-1 Data Summarization and Analysis of Relief Web Financial Tracking
The OCHA is asking organizations that provided aid to countries hit by a disaster or to the relevant organizations in that country to register details of their contributions, and disclose the summarized results on the OCHA Relief Web "Financial Tracking".
Although this enables the tracking of the international support and contributions to the country in crisis, it should be noted that this system sums up only contributions in cash in US dollars, and does not track humanitarian or material support. In fiscal 1999, as the "Financial Tracking" became available at the Relief Web, the ADRC analyzed the countries and organizations which contributed to disasters hitting the ADRC member countries using this "Financial Tracking".
The Relief Web provides Financial Tracking Tables on international contributions by disaster, for major disasters occurring from 1992 up to the present. We extracted the disasters that affected the member countries, and summarized the relation between member countries and donor countries by region and country for the period between 1992 and March 2000 in Table 5-2-1-1. Table 5-2-1-2 shows the details for major disasters (total amount of contributions exceeding US$1 million) which occurred in member countries. To summarize, a donor country includes the government of the country, international organizations, NGOs, and other organizations located in that country, while international organizations that are not located in one specific country are classified into OTHERs.
Figures 5-2-1-1 through 5-2-1-20 illustrate government-related contributions by disaster country, indicated on the world map by amount of contribution.
These figures show that considerable contributions were made by Europe and the U.S., in addition to Asian regions for disasters in Asia. The trends observed are:
・ For disasters in Asia, many countries in the region contribute, though the amount of the aid varies.
・ Japan, China, Korea, Singapore, Thailand, India, and Russia in particular contribute to many countries.
・ Developing countries that are hit by many disasters and receive contributions often provide support when disasters strike neighboring countries.
・ The advisory countries, and other developed countries in Europe and the U.S. provide large contributions to disasters in Asia. In particular, Scandinavian countries aided many countries.
These tables can be read from various other perspectives.

Table 5-2-1-1 Matrix of Disaster Countries (Member Countries) and Donor Countries <1992 to 2000>


[FrontPage 画像マップ コンポーネント]


Table 5-2-1-2 Disasters Exceeding US$1 Million In Total Contributions
(ADRC Member/Advisory Countries, Only):1992 to 2000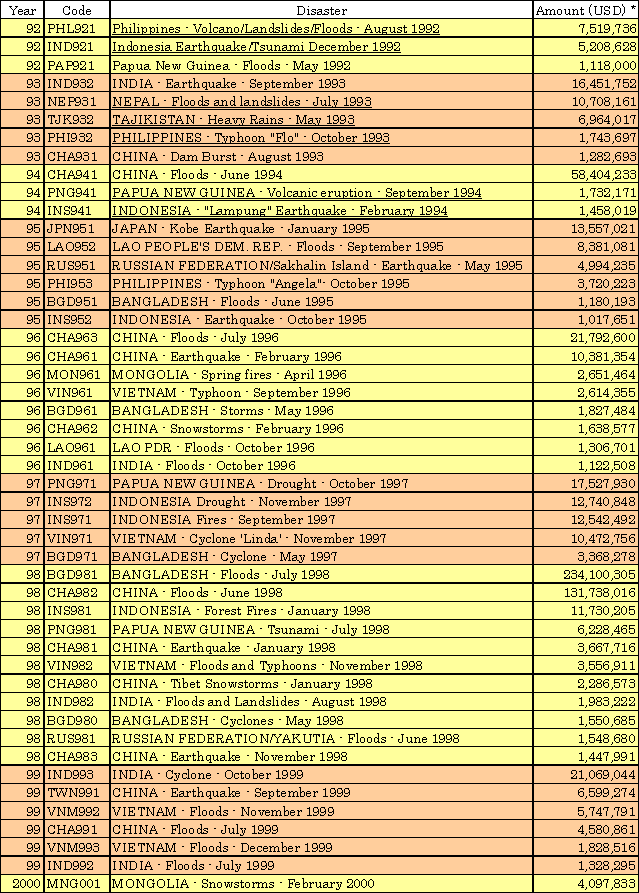 Figures5-2-1-1 Bangladesh
Figures5-2-1-2 Cambodia
Figures5-2-1-3 China
Figures5-2-1-4 India
Figures5-2-1-5 Indonesia
Figures5-2-1-6 Japan
Figures5-2-1-7 Kazakhstan
Figures5-2-1-8 Lao People's Dem. Rep.
Figures5-2-1-9 Malaysia
Figures5-2-1-10 Mongolia
Figures5-2-1-11 Myanmar
Figures5-2-1-12 Nepal
Figures5-2-1-13 Papua New Guinea
Figures5-2-1-14 Philippines
Figures5-2-1-15 Republic of Korea
Figures5-2-1-16 Russia
Figures5-2-1-17 Sri Lanka
Figures5-2-1-18 Tajikistan
Figures5-2-1-19 Uzbekistan / Kyrgyzstan
Figures5-2-1-20 Viet Nam

5-2-2 NGOs in the Member Countries
NGOs play an important role in emergency relief when disasters occur. From international NGOs such as Red Cross, CARE, ADRA, and OXFAM to grass-root NGOs in disaster affected countries, their activities are extensive, ranging from rescue and relief to supply food, clothing, shelter, etc. NGOs undertake support activities for victims at the forefront of disasters. The more underdeveloped disaster reduction responses by governments are, the greater NGO's role will be in complementing activities by these governments, especially in developing countries.
ADRC aims to collect information through private sectors such as NGOs, in addition to those through public sectors such as governments and international organizations, in order to accomplish the collection of information through multi-channels mainly for emergency relief.
In order to implement this purpose, ADRC has tentatively collected lists of NGOs providing emergency relief activities in some of member countries and summarized them: Viet Nam, Tajikistan, Papua New Guinea, Japan, Nepal, and Bangladesh (Table 5-2-2-1). The table shows their names, activities, contact persons, and addresses of NGOs.
We plan to develop lists by collecting from other countries as well as by reviewing the items that need to be included. Through this process, we hope to promote collaboration between the ADRC and NGOs, and among NGOs, and establish a system which enables us to automatically acquire necessary information on emergency relief in the future.
Table 5-2-2-1 NGOs in the Member Countries
1. Viet Num
No
Name of NGOs
Activities
Name of Contact Person
Address
1
Oxfam Quebec
Agro Forestry Small Business Development Handicraft production
Jean Guy Larochelle
No.16 Lane 164 Doi

Can St., Ha noi, Viet Nam
Tel: 84-4 843-0632
Fax: 84-4 843-0472
2
Pathfinder International

 
Joellen Lambiotte
Tel: 84-4 846-0807
Fax: 84-4 846-0806
3
Oxfam Great Britain
Sustainable livelihood promotion
Support for access to basic education
Disaster preparedness and response
Food governance and participation
Gender equity
Heather M Grady, Country Representative
218 Doi Can St, Hanoi,

Viet Nam
Tel: 84-4 832-5491
Fax: 84-4 832-5247
Email: oxfamgb@netnam.org.vn
4
Oxfam Solidarity (Belgium)
Rural development programme in Nghe An, Ha Tinh, and Hoa Binh Provinces
Capacity to support emergency/relief from time to time
Mr. Daniel Blais
Oxfam Solidarity (Belgium)
A2/1 Giang Van Minh St- Ha noi-Viet Nam
Tel: 84-4 846-2213/ 846-2214
Fax: 84-4 846-2217
Email: oxfamb@netnam.org.vn
5
AFAP
 
Ahmet Bektas
Tel: 84-4 843-9551
Fax: 84-4 834-6225
6
Foundation for International Development
 
Kotaro Khikawa
Tel: 84-5 11-871-279
Fax: 84-5 11-871-579
7
Medicins Sans Frontieres
 
Yvan Hildebrand

38 Phu Dong Thien Vuong St., Ha noi, Viet Nam
Tel: 84-4 978-1932
Fax: 84-4 978-1934
8
Bread for the World
 
Louise Buhler
3 Pham Ngoc Thach St., Hanoi, Viet Nam
Tel: 84-4 572-7184
Fax: 84-4 572-7185
9
Medical Committee Netherlands
 
Nguyen Quang Hoanh
Tel: 84-4 852-9353
Fax: 84-4 852-0901
10
NGO Resource Centre
Promote facilitate and contribute to the sharing of resources and the exchange of information to improve the quality of work of NGOs and their partners
Strengthen relationship and enhance dialogue between NGOs and Government and donors focusing on the role of NGOs in Viet Nam
Publish annual NGO Directory
Michelle Brown, Co-Director
218 Doi Can St., Hanoi, Viet Nam
Tel: 84-4 832-8570
Fax: 84-4 832-8611
Email: ngocentr@netnam.org.vn
11
Ecoles Sans Frontieres
 
Michele Bergdoll

Tel: 84-4 574-2329
Fax: 84-4 574-2329
12
Population and Development International
 
Steven Lux
Tel: 84-4 822-9528
Fax: 84-4 826-3411
13
Counterpart International
 
Curtiss Swezy
Tel: 84-4 976-1025
Fax: 84-4 976-1028
14
CARE International

 
Richard Harmon
Tel: 84-4 831-4155
Fax: 84-4 831-4160
2. Tajikistan
No.
Name of NGOs
Activities
Name of Contact Person
Address
1
Mercy Corps International and Mercy Corps Europe/Scottish European Aid
Capacity-building for Ministry for Emergency Situations
James White, Country Director
Jim@mct.tajnet.com
Phone/Fax: 7(3772)51-01-33
2
Interanational Federation of the Red Cross/Red Crescent
Response to Natunal Disasters
John Humphreys, Head of Mission
 
3
Focus USA
Disaster Prevention Training
Goulsara Pulatova
 
4
Global Partners
Response to Natural Disasters
Greg Gamble
 
3. Papua New Guinea
No
Name of NGOs
Activities
Name of Contact Person
Address
1
PNG Red Cross
Disaster Response
Ms. Jang Philimon
Ph: (675)3258577
Fx: (675)3257914
2
PNG Salvation Army
Disaster Response
Cnpt Kala
Ph: (675)3255507
Fx: (675)3253534

4. Japan
No
Name of NGOs
Activities
Name of Contact Person
Address
1
Affected area NGO Cooperation Center
*Coordinate trainings and visiting
*Support activities for oversea disasters
*Organize the secretariat of international disaster forum for citizens and NGOs
Mr. Masakiyo Murai
7-2-6 Higashi-kawasaki-cho, Chuo-ku, Kobe-city, Hyogo 650-0044
Tel: 81-78-685-0068
Fax: 81-78-685-0071
2
Association of Medical Doctors of Asia (AMDA)
*Promote the health and well-being of our brothers in Asia and other continents, especially the needy and underprivileged by establishing branches in every country
Mr. Shigeru Suganami

310-1 Narazu, Okayama-city, Okayama 701-1202
Tel: 81-86-284-7730
Fax: 81-86-284-8959

http://www.amda.or.jp/index_e.html

3
Nippon Volunteer Network Active in Disaster (NVNAD)
*Support rescue and relief activities for the affected area and people
*Establish a nationwide disaster relief network
*Organize training programs and disaster workshops
 
5-1-1 Kami-kohshien, Nishinomiya, Hyogo  663-8114
Tel: +81-798-36-9900
Fax: +81-798-36-4392
http://apollo.m.ehime-u.ac.jp/~nvnad/index_e.html
4
Guardian Angels Japan
*Patrol downtowns and subways
*Support internatinal exchange using worldwide network of its branches
*Patrol on the Internet to prevent harmful information (Cyber Angels)
 
P.O.BOX 108 Akasaka Station Minato-ku Tokyo 107-91

Tel: +81-3-3423-3300
Fax: +81-3-5771-7435
http://www.angels-japan.com/index.html
5
Global School
*Exchange information on culture and children's life between Japanese and other countries such as Turkey and Uzbekistan, via the Internet and other textbools
Ms. Yumiko Koda
c/o Office Koda, 1-4-12 Shioya-dai, Tarumi-ku, Kobe, Hyogo 655-0864
Tel: 81-78-751-0328
Fax: 81-78-751-4839

Email: ab8y-kud@asahi-net.or.jp

             
6
Heart Net Fukushima
*Establish disaster networks via

Internet
*Collect support materials for affected areas
*Host disaster-related workshops (for volunteers)
Mr. Yoshida
Sako-Bldg. 3F-4, 1-22-11, Kuwano, Koriyama,
Fukushima 963-8025
Tel: 81-249-91-1701
Fax: 81-249-91-1702
Email: heart@aax.mtci.ne.jp
7
Nasu-cho Flood Volunteer Center
*Conduct fund-raising campaign for the victims of flood
*Supply relief materials
Mr. Masuda
4-215 Terakohei, O-aza, Nasu-cho, Nasu-gun, Tochigi 320-0027
Tel: 81-287-72-1599
8
Tochigi Volunteer Information Network
*Promote social activities by volunteers and citizens
*Coordinate issues of volunteer
*Work on emergency support
 
Kyosei Bldg. 3F, 2-5-1, Shiota, Utsunomiya-city, Tochigi 320-0027
Tel: 81-28-622-0021
Fax: 81-28-623-6036
9
Shanti Volunteer Association
-Send picture books to children in Cambodia and Lao PDR
Tanaka
Miyake
Jibo-kaikan 3F, 31 Daikyomachi, Shinjuku-ku, Tokyo 160-0015
Tel: 81-3-5360-1233
Fax: 81-3-5360-1220
Email: sva.network@pep.ne.jp
10
Tokyo Chofu Rescue Support Bike Network
*Collect/Disseminate information on relief and rescue by using motorbykes in the event of a disaster
*Ensure the effectiveness of motorbykes through mastering safe driving skill and first aid treatment

Mr. Kokufuda
Mr. Takamizawa
Mr. Fukushima
1-22-8-304 Kuniryo-machi, Chofu-city, Tokyo 182-0022
Tel: 81-424-88-1683
Fax: 81-424-87-6327
11
Kawasaki Disaster Volunteer Network Council
*Hold training courses of disaster volunteer / coordinator
*Establish networks with disaster volunteer groups
*Continue support activites for the victims of the Great Hanshin-Awaji Earthquake
 
1-10-18-105 Kyo-machi, Kawasaki-ku, Kawasaki-city, Kanagawa 210-0848
Tel: 81-44-344-8921
Fax: 81-44-344-8921
12
Support Kobe Nagano
*Publish newsletters about domestic/overseas disasters
*Publish booklets about support activites
*Stockpile support materials
Mr. Katsuhiko Miyasaka
Wisteria Bldg. B1F, 1-8-1 Minami-chitose, Nagano-city, Nagano 380-0823
Tel: 81-26-228-7663
Fax: 81-26-228-3521
Email: yhu@janis.or.jp
13
Volnteer Net Learning from Earthquakes
*Invite the affected children (of the Great Hanshin-Awaji Earthquake) to go camping
*Hold charity bazaars
*Visit people living in temporary housings
 
c/o DVD, 7-1 Inabaji-machi, Nakamura-ku, Nagoya-city, Aichi 453-8540
Tel: 81-52-413-6304
Fax: 81-52-413-6304
14
Caritas Osaka
*Supply daily necessities to laborers sleeping in the open air
 
2-24-22 Tamatsukuri, Chuo-ku, Osaka-city, Osaka 540
Tel: 81-6-6942-1784
Fax: 81-6-6920-2203

5. Nepal
No
Name of NGOs
Activities
Name of Contact Person
Address
1
Kathmandu valley Earthquake Risk management. Project
*Asian Urban Disaster Mitigation Program
Mr. Amod M. Dixid
 
2
Care Nepal
 
Mr. Robin Needham
P.O.Box 1661, Kathmandu, Krishna Galli, Patan, Nepal
Tel:977-1-522-143

(522-153,523-717)
Fax:977-1-521-202
3
Nepal Eological Society
 
Mr. Uttam Bol Shrestha
G.P.O. Box 231
Kathmandu, Nepal
Tel:977-1-414-330
Fax:977-1-414-806
Email:ngs@wlink.
4
Unitede Mission to Nepal
 
Mr. Murari B. Pokhrel
PO Box 126, Kathmandu, Nepal.

Tel:977-1-228-118
Fax:977-1-225-559
Email:

umn@umn.mos.com.np
5
Nepal Red Cross Society
Rescue & Relief Operations
Mr. Udoya Regini
PO Box 217, Kathmandu, Nepal
Tel : 977-1-270-650;

270167; 278719; 273734;

270761; 272761
Fax : 977-1-271915
6. Bangladesh
No
Name of NGOs
Activities
Name of Contact Person
Address
1
CARE Bangladesh
Seed, Fertilizer, Crop and seeding distribution
Mr. Steve Wales, Country Director
66, Road-7/A,
Dhanmondi, R/A, Dhaka,
Tel: 811-41950
Fax:811-4183
E-mail: TCN-136
2
BRAC
Seed & Fertilizer distribution

Mr. Fazle Hasan Abad, Executive Director
75 Mohakhali, Dahka
Tel: 881-4180
Fax: 881-3542
E-mail: general@mail-net
3
Proshika Manobik Unnoyan Kendro
Agriculture Seed & vegetable seeds
Dr. Kazi Faruk Ahamed Executive Director
1/l, Ga Sec-2, Mirpur, Dhaka
Tel: 801-3398
Fax:801-5811
E-mail: proshika@mail-net.Online.com

4
Oxfam Bangladesh
Vegetable seeds
Mrs. Tahara Yasmin, Country Representative
6/4, Sir. Syed Ahamed Rd., Block-A, Mohammadpur Dhaka
Tel: 811-7164
Fax: 811-3198
E-mail: becoote Oxfam.bd
5
Caritas, Bangladesh
Seed, Seedlings, Cows
Mr. B.T.D.Costa Exec
2-Outer Circular Rd., Shantibag, Dhaka
Tel: 831-5405
Fax: 831-4993
E-mail: aritaasb@citeohoo.net
6
Gonoshatha Kendra
Relief goods distribution
Dr. Abul kashem, Executive Director
House-14 E, Road-6, Dhanmondi, R/A, Dhaka
Tel: 831-5405

Fax:861-3567

E-mail: gkmail@d:bgd.toolnet.org

7
World Vision of Bangladesh
Vegetable seed destributin
Mr. F. M. Jahangir, Executive Director
House-27, Road-16 (New), Dhanmondi, R/A, Dhaka
Tel: 811-7983
Fax: 861-3567

E-mail: bangladesh@wvi.org

8
Action Aid Bangladesh
Agriculture Rehabilitation, Loan & Seed distribution
Mr. Rajaul Alam Head of H.R.D
House-14, Road-6, Dhanmondi, R/A, Dhaka
Tel: 811-1763
Fax: 811-0933
E-mail: aab.org:com
9
NGO Forum for Drinking and Sanitation
Tube-well sinking
Mr. S.M.A Rashid Executive Director
4/6 Block-E, Lalmatia, Dhaka
Tel: 811-9597
Fax:811-7942
E-mail: ngof@bang.net
10
Concern Bangladesh
Seed & Fertilizer distribution
Mr. Aina Fay, Country Director
House-63, Road-15/A, Dhanmondi, R/A, Dhaka
Tel: 811-2795
Fax: 811-5973
E-mail: concern@bangla.net